**this post contains affiliate links**
It's that fun time of year again!! Swap it Like It's Hot, where a whole bunch of us get together and find thrifty randoms and send them to our friends to transform into whatever they can reimagine and I love it! This year my items came from our fearless leader, Charlotte, from Ciburbanity, and I decided to use them to spruce up our bar cart for fall.
Our antique bar cart got a little make over during the One Room Challenge that you can see here but it was time to change out a few things to try and entice fall to head into Texas;)
Charlotte sent me several fun things but I decided that these two were the stand outs to help in my mini make-over. This little tray and a wooden stand.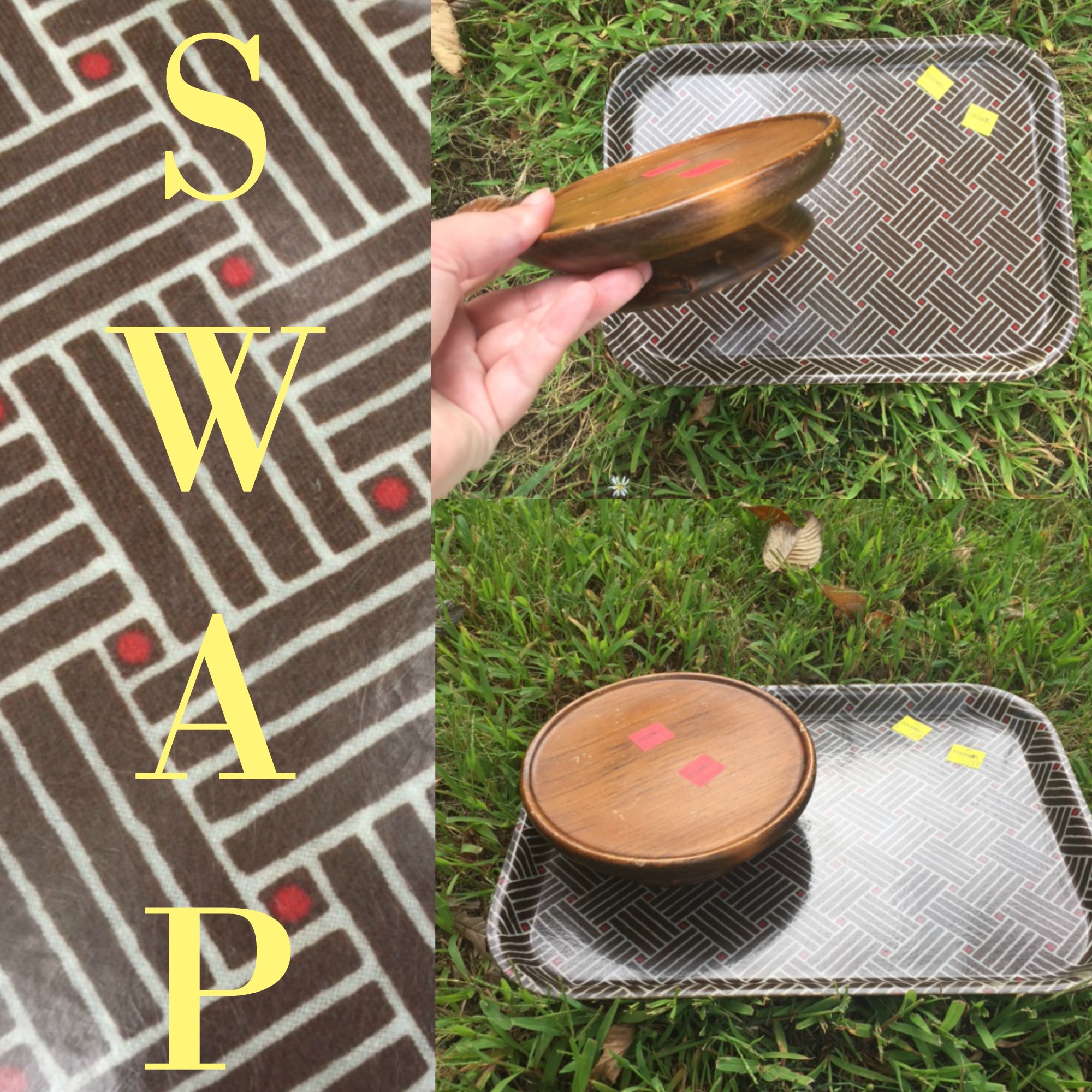 I actually liked the pattern on the tray, but the colors just weren't working for me, which is the beauty of buying things and seeing them in different ways! All this tray needed was some black spray paint to get me started… and yes, this may be one of my children completely wiping out in the background of this photo… no children were harmed in the spray painting of this tray!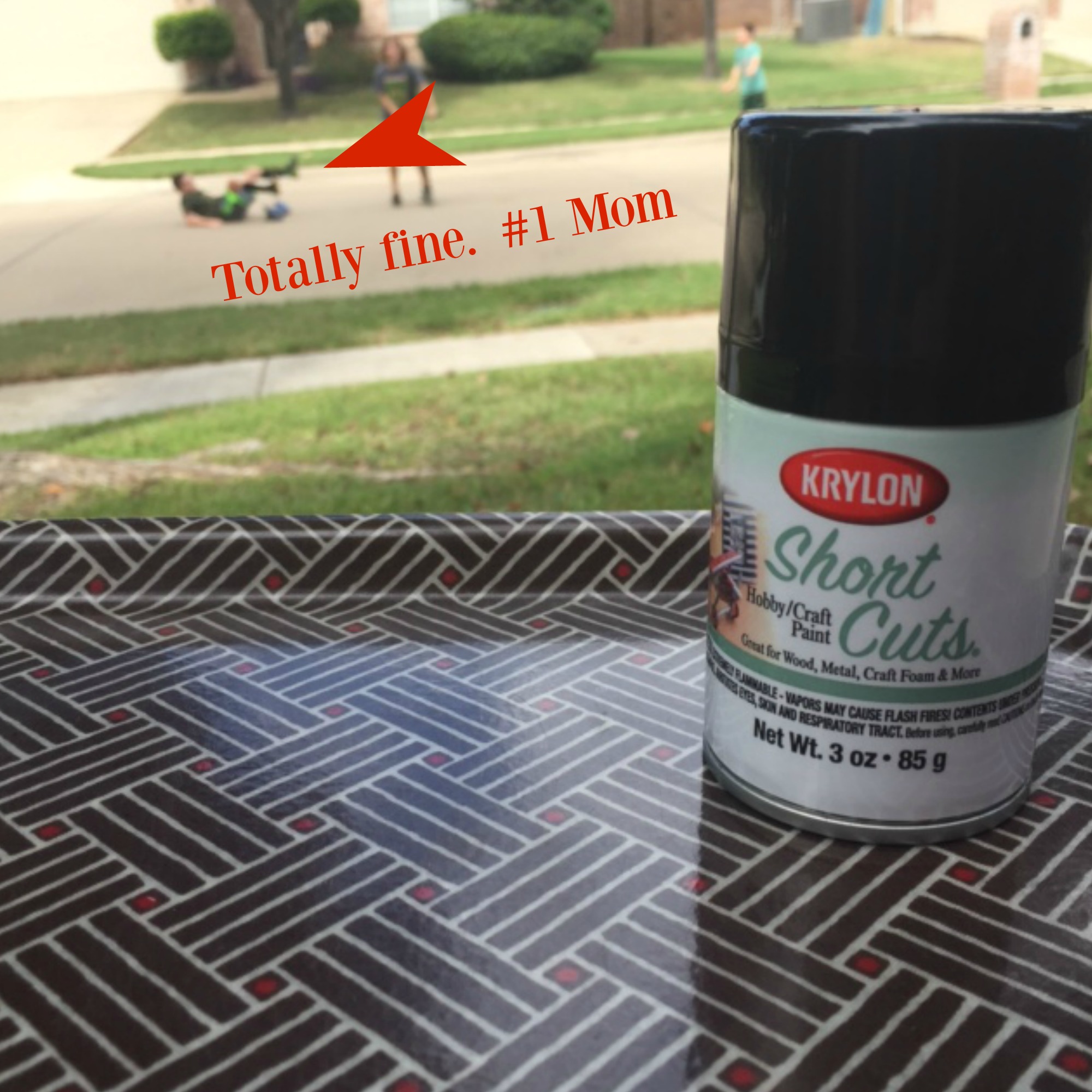 I used some glossy, black spray paint and gave it a shiny fresh coat! Then I decided to add my personality into the project… a few white stick on letters accomplished that because I got jokes people! My husband may not think I'm as funny as I do but he's got the rest of his life to figure that one out.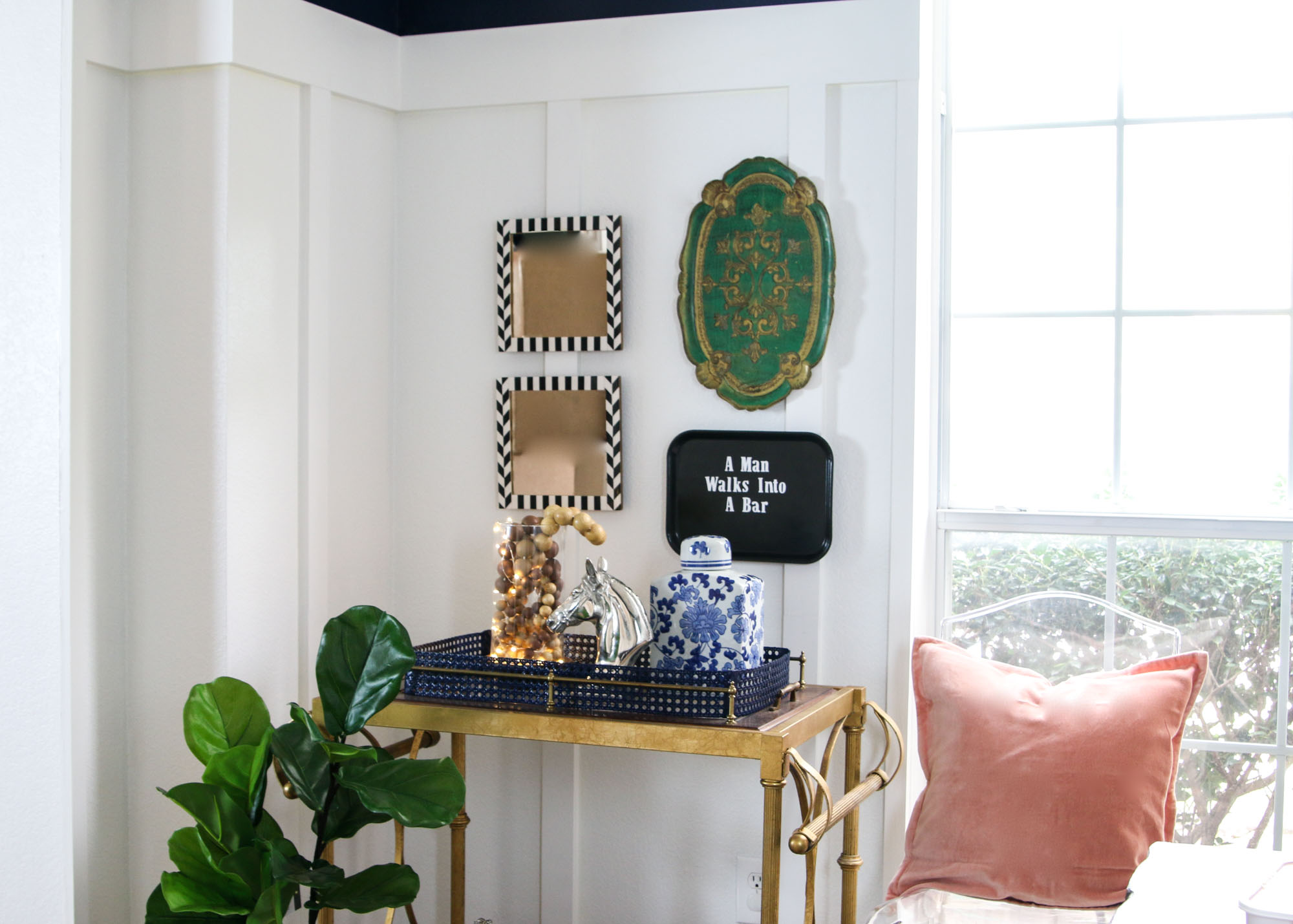 So a man walks into a bar… and he says… can there ever be enough blue and white in a house? No! and that's not even a funny question! You know I had to have my blue and white but I love the mix with the black and white and peach… yes, peach! I brought some peach accents with my DIY curtains into the dining room and love the soft contrast it brings.  That peach, velvet pillow cover though, was a recent Target purchase (lots of colors) for under $10- you can find it here and you're welcome… love! 
The wood base was perfect with an old glass cylinder I had.  I simply filled it with these wood beads that once again, I found at Target, and then added some of my little, Christmas battery powered lights for some fall ambiance! So easy but added great texture and interest! For you locals out there, I am not going to lie… there were two boxes at my Target and I snatched them both up- I'm sure they will restock soon but they are on sale online and it is an unbelievably good deal if you compare prices to the wood beads they sell at Pottery Barn, etc, so I suggest you nab them if you can.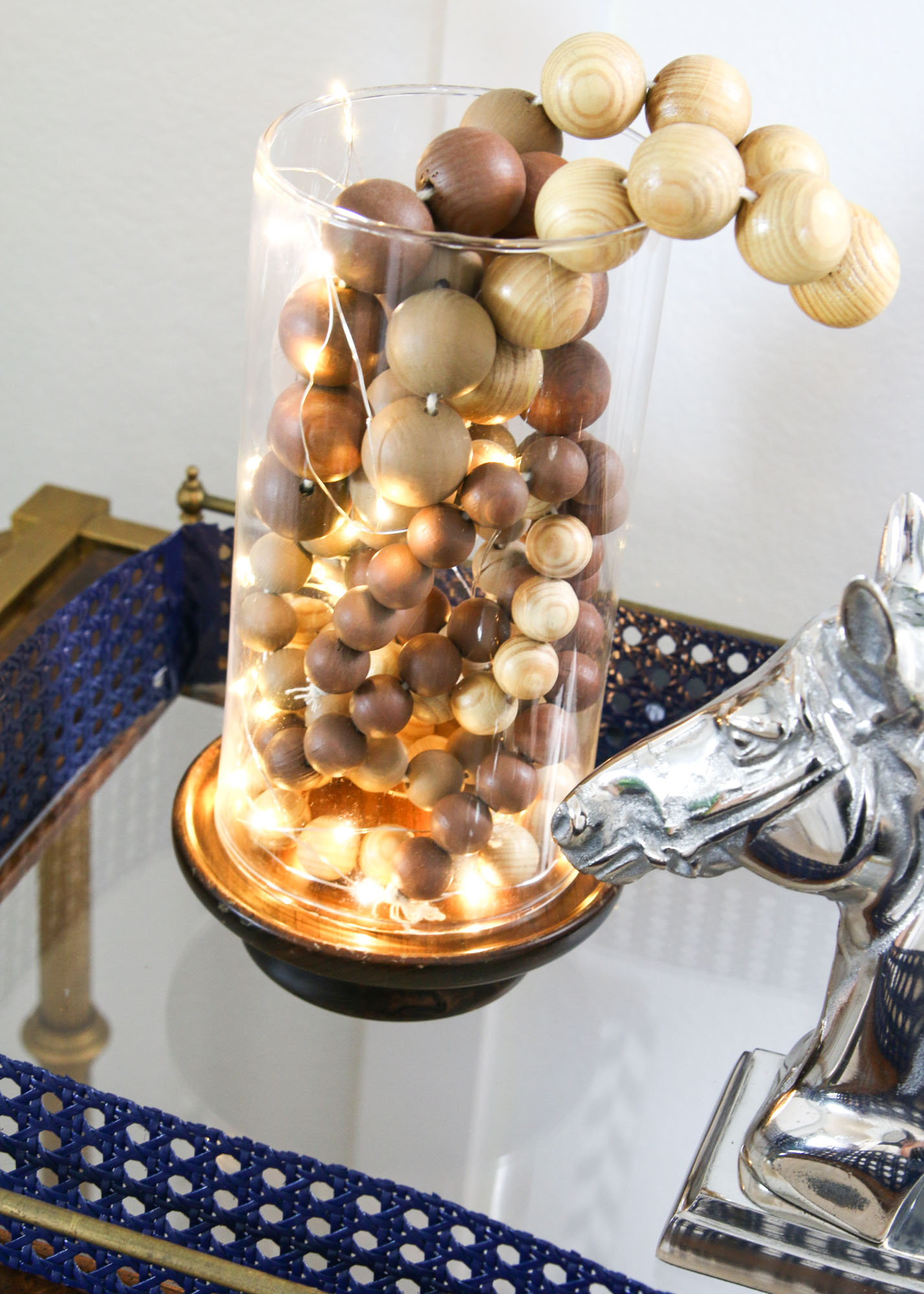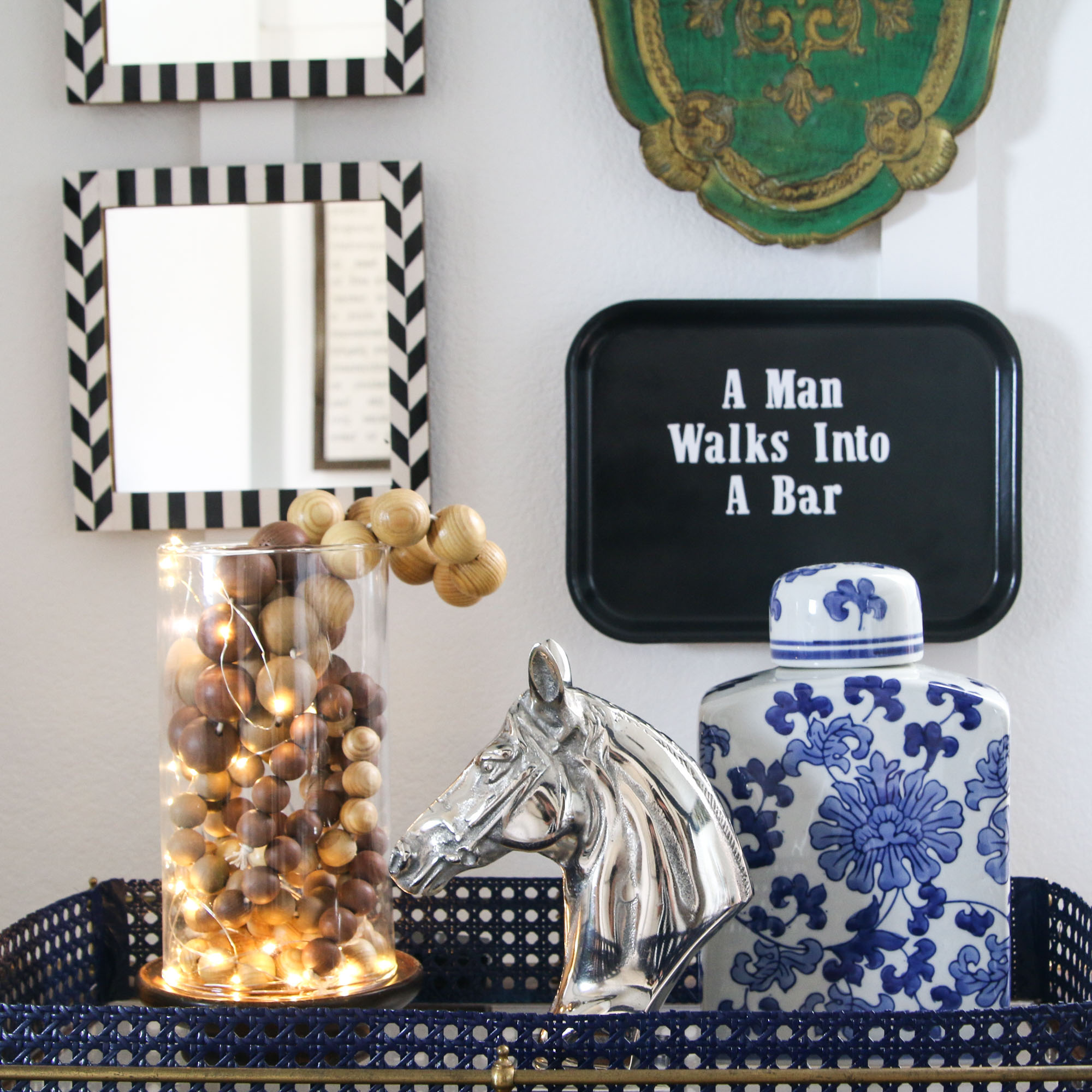 Best advice on decorating I can give… decorate for you… this isn't going to be everyone's style and that's why I love seeing what other's do with similar things because to some a tray is just a tray but to some it's way to remind their husband that they are funny every time he sees it 😉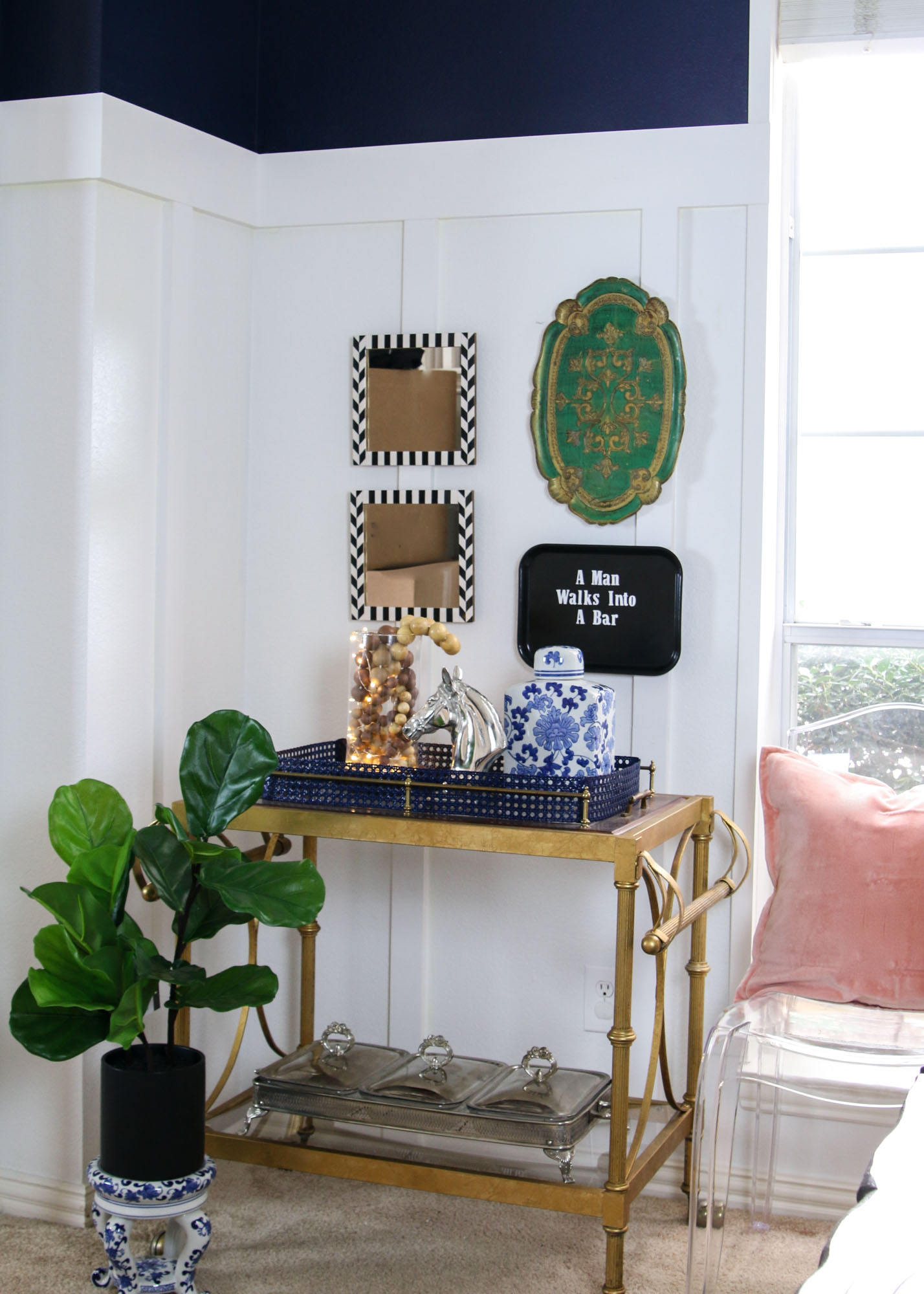 And FYI in case I haven't encouraged you to spend enough moola at Target already, that is in fact a fake fiddle leaf fig tree… and I couldn't be more proud of a fake plant if I tried.  I actually had to ask our store manager and these will only be sold at some stores so once again, if you can grab it online I would for sure- they are so real looking and obviously for me the biggest plus is you can't kill it!
So now I get to send you on your way to my friend Laurie over at Vin'yet Etc. who I sent this little group of thrifted finds- I can't wait to see what she did with them!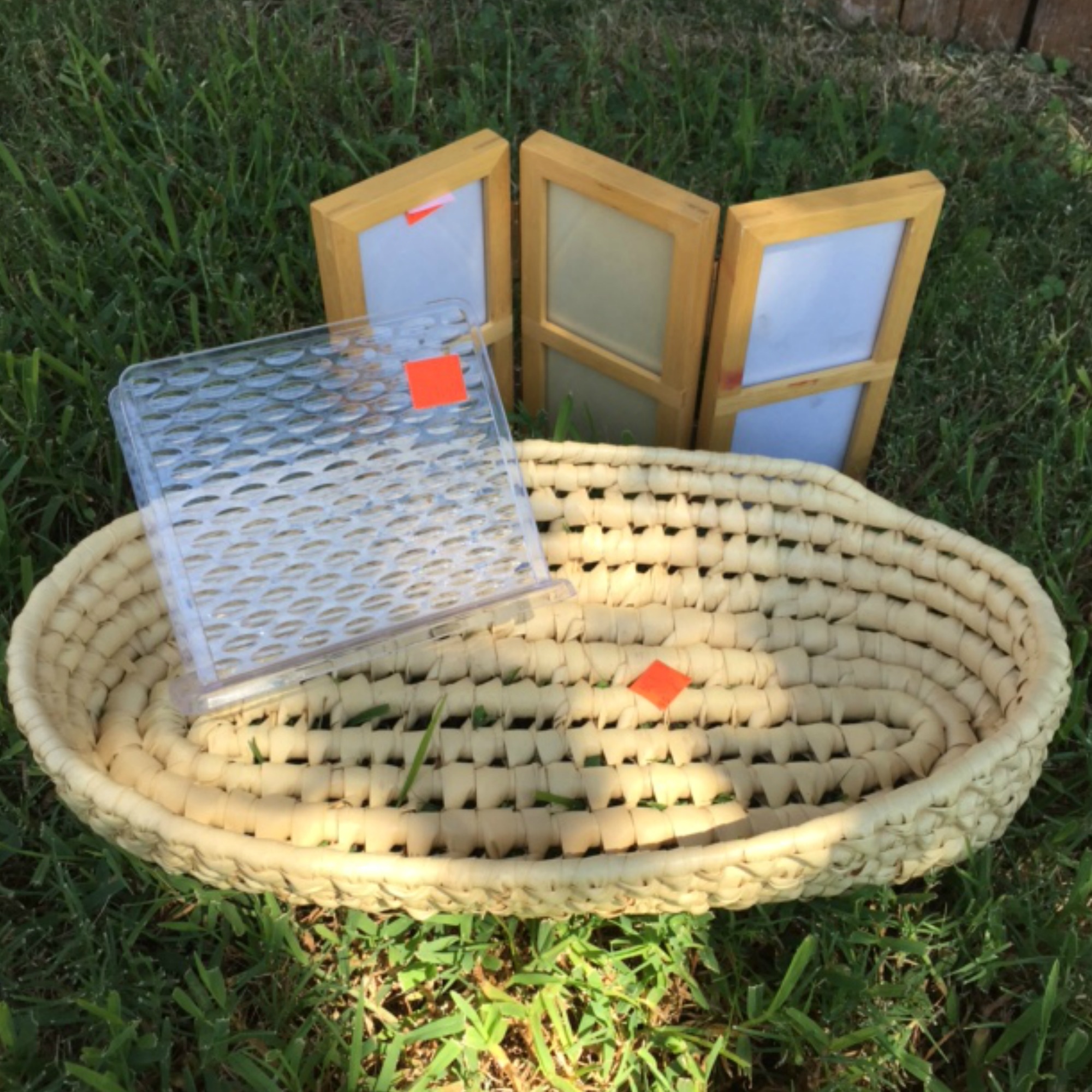 And here are the links to all of the participants for today and I will come back each day and add the new participants as this will go on all week!
Monday
| Ciburbanity | Windgate Lane | Vin'yet Etc. | Casa Watkins Living | One Mile Home Style |
Tuesday
| Reinvented | ConfettiStyle | Confessions of a Serial Do-It-Yourselfer | Addicted 2 DIY
|Restoration Redoux | I Am a Homemaker | Maggie Overby Studios | PMQ For Two |
Wednesday
| Two Thirty-Five Designs | 58 Water Street | Create & Babble |
| Dogs Don't Eat Pizza | Gourley Girl and Guy | The Charming Farmer |
Thursday
| This is our Bliss | Southern State of Mind |
| Two Purple Couches | My Life From Home |
xoxo
B
**affiliate links are included in this post to both ease in the sourcing of materials and Windgate Lane does make a small stipend off of purchases made through click throughs**