**This is not a sponsored post and all opinions are my own.
The entryway in our new home was a bit of a question mark for me at first.  It's very long and with the hardwoods, it felt a bit dark, which I knew I needed to offset.  Initially I considered a gallery wall, but decided that it might feel a bit cluttered and wanted it to feel very clean and simple while still filling the very large space.  I'm not used to having such high ceilings and a lot of our old pictures are sizes that would get lost in the space, so I needed to look for larger scale pieces.
During the first few months I ordered this console table from Ballard Designs when it was on mega sale for $200.  The price was right and so was the length! It's huge and bigger than most I was finding.  But that's what the space needed! I was debating for quite awhile on what to put above it but finally decided on a mirror because it would bounce the light down the dark hallway and wouldn't compete with artwork that would hang over the mantel.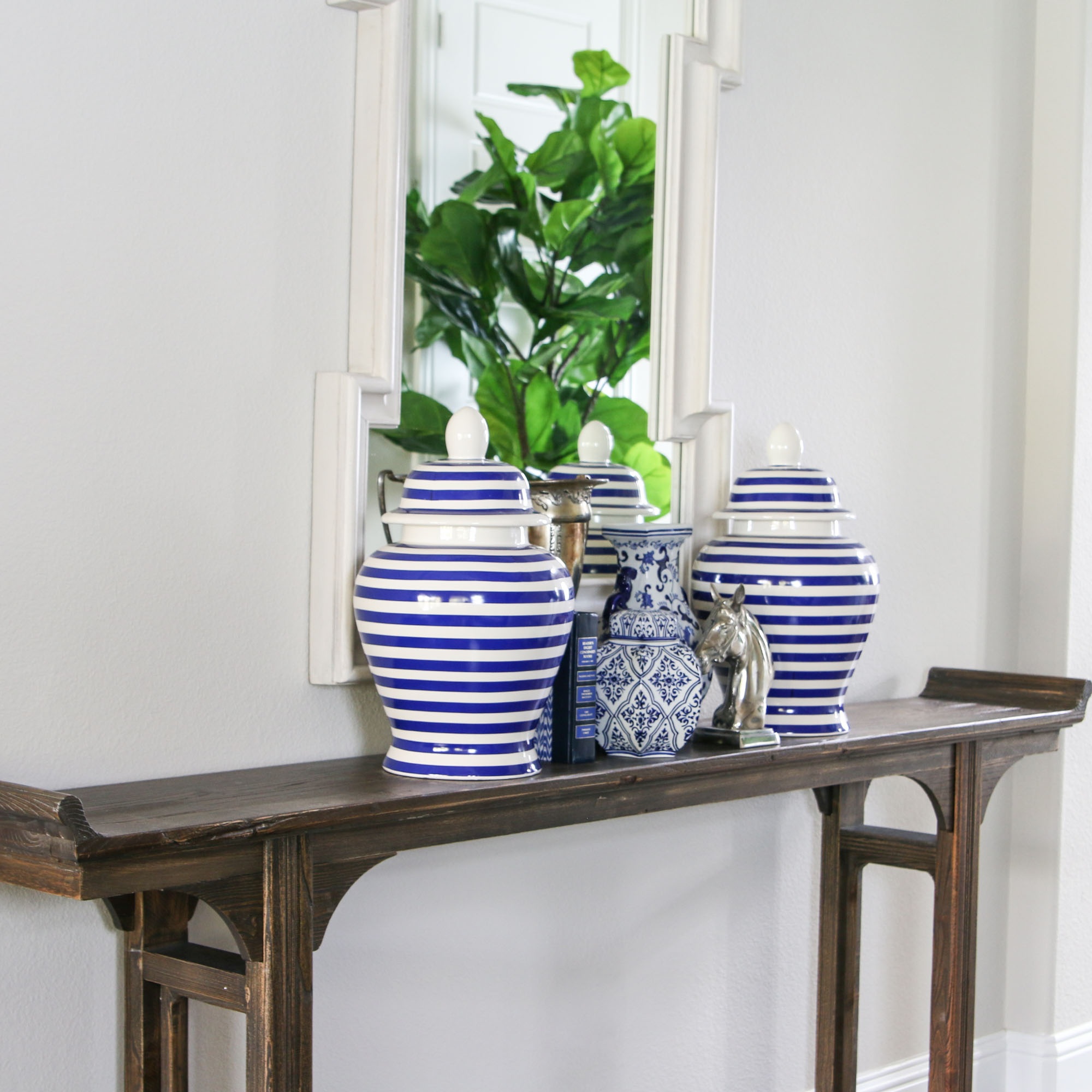 After some failed trips to HomeGoods and my other fave home accessory places, I got a new Ballard Designs catalogue in the mail and wouldn't you know it… the perfect mirror was in it! Once again, huge, but just enough detail to give it interest without being fussy! Check and check! The only problem… price… definitely more than I usually spend on something like this.  But if you sign up for there email list (once again, this is not a sponsored post) you will get emails with sales and I did just that and they finally had a 30% off coupon and I jumped on it.  This won't be something I will replace for a long time and the quality of it showed when it arrived!
And by quality, I mean it was heavier than I could describe without using a cuss word and tested our marriage to the limit while we hung it lol! But worth it in the end!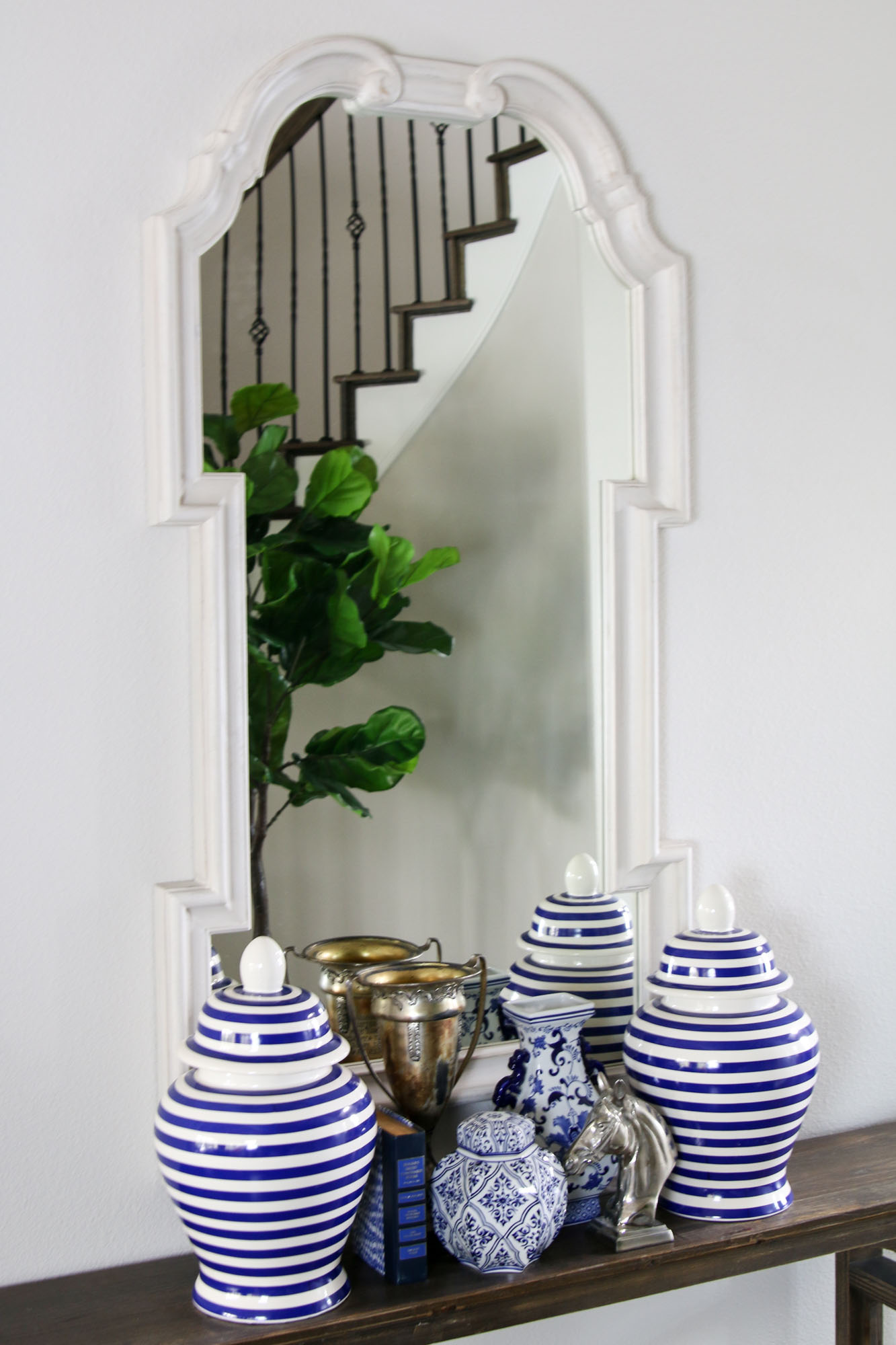 And why don't we just round out my Ballard Designs love fest with the final thing in the entry, my faux fiddle leaf fig tree! I have yet to find one of this quality and size for the price (also waited for a coupon and got it awhile ago).  It looks so real and I just found the pot for it at HomeGoods.  I can't keep a plant or tree alive to save my life so this is actually saving me money in the long run.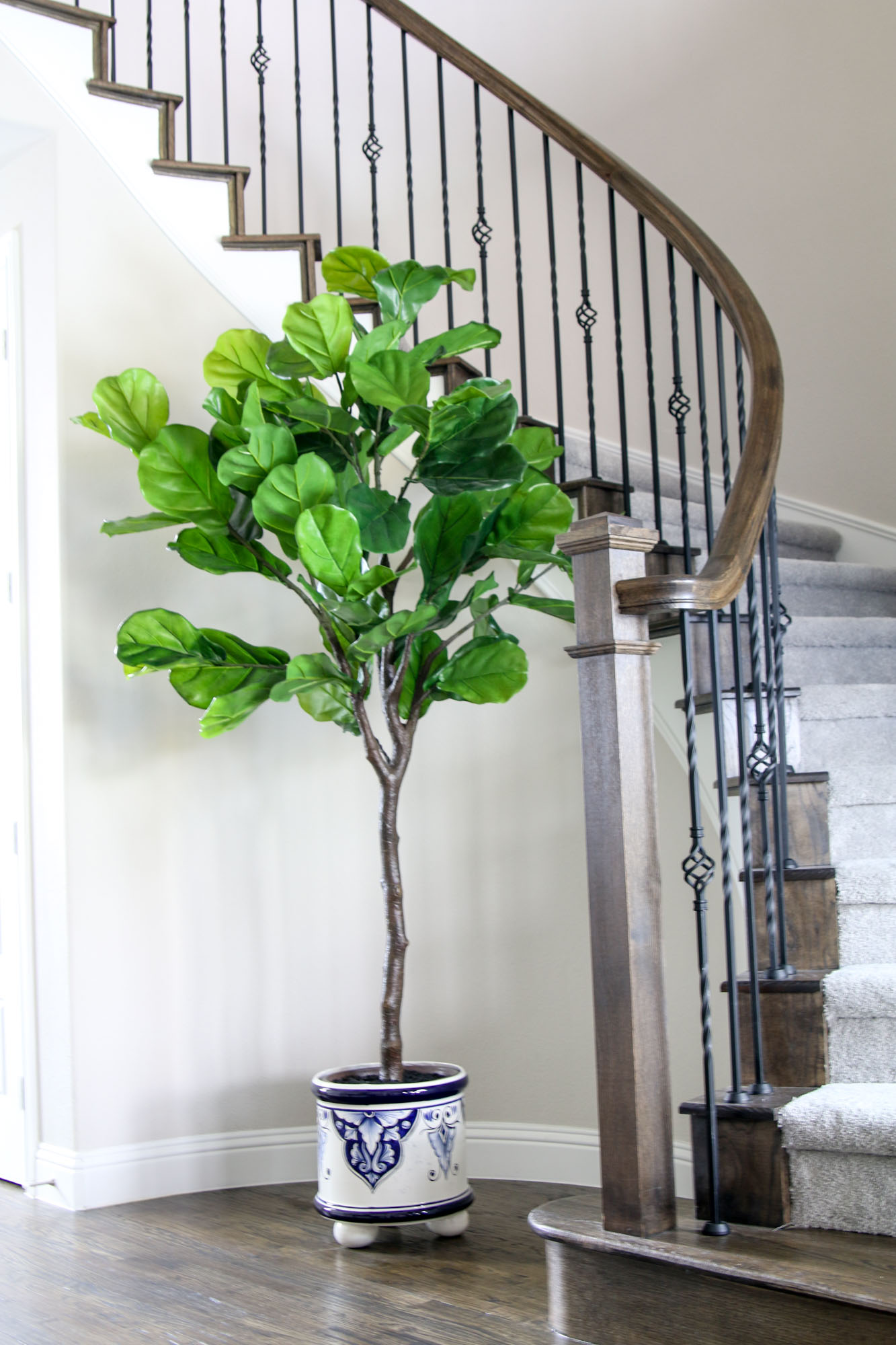 Added in some of my blue and white pretties and voila! After 4 months we have a pretty, welcoming entryway! Do you like how I say voila and then 4 months later like it was overnight? Yeah… moving is a lot y'all.  Expenses and just figuring out what works in the new spaces takes patience and more patience, otherwise you end up buying a bunch of stuff that doesn't really work.  Just ask our last house and the accessories that were in it for the first several years;)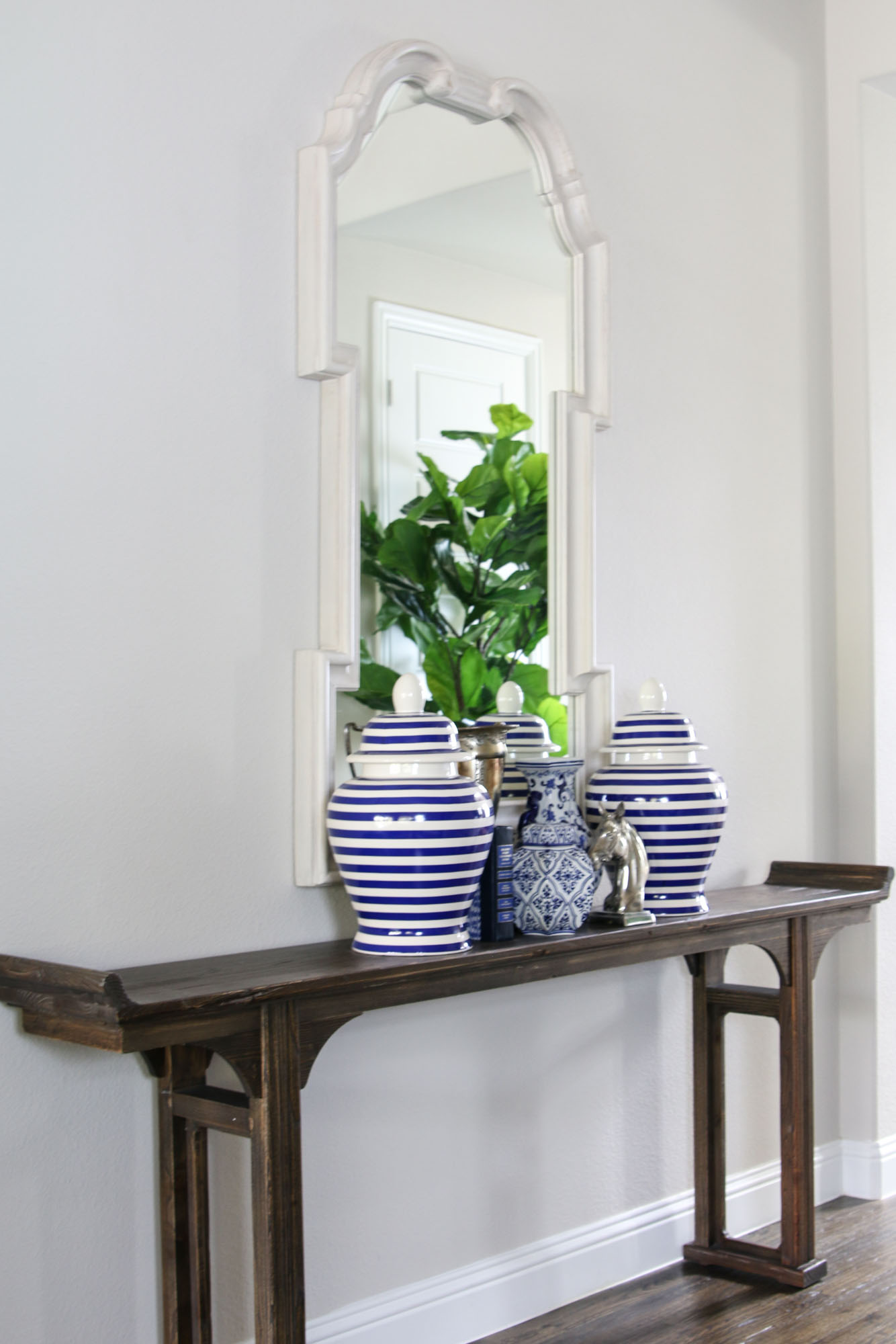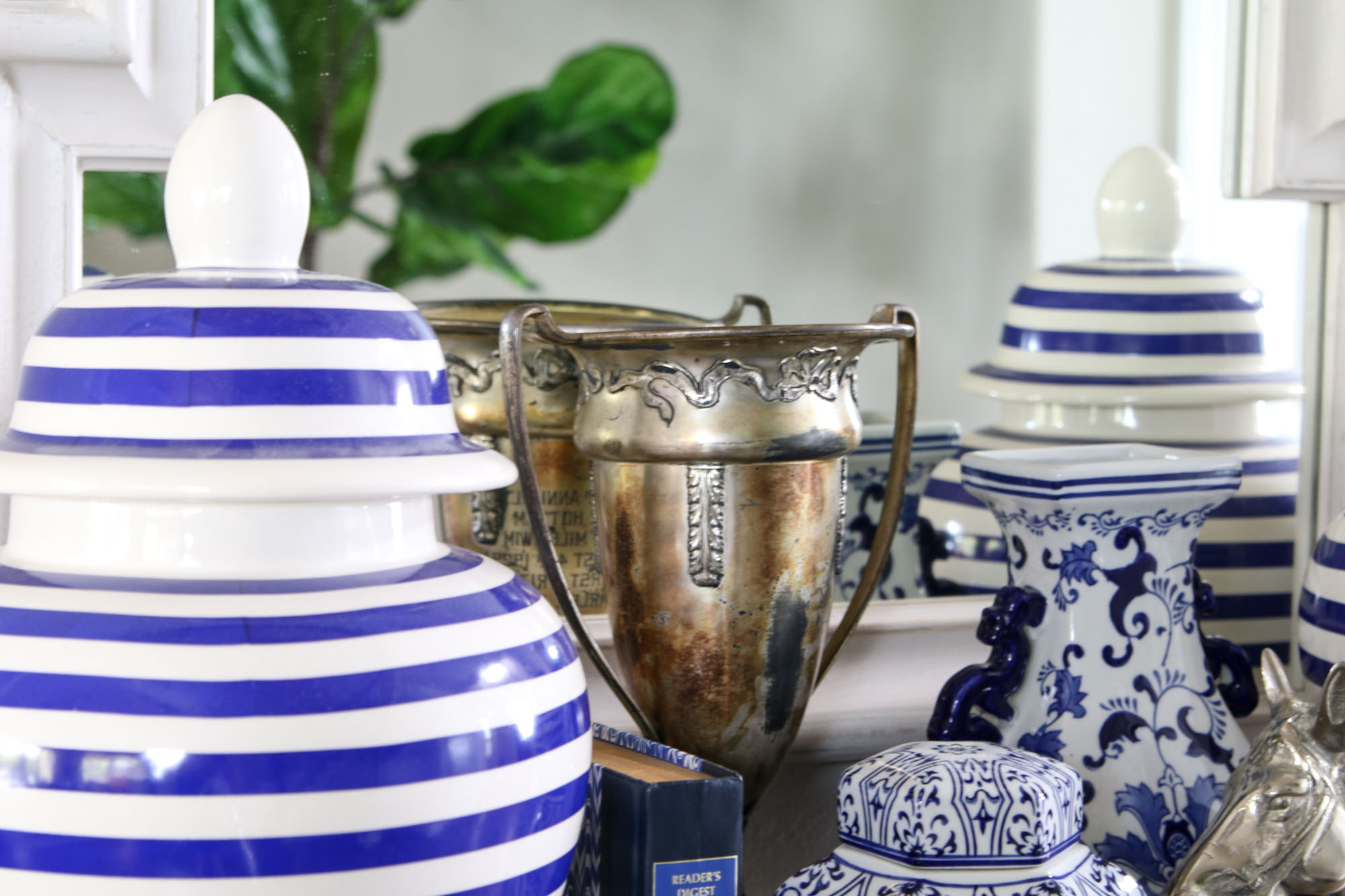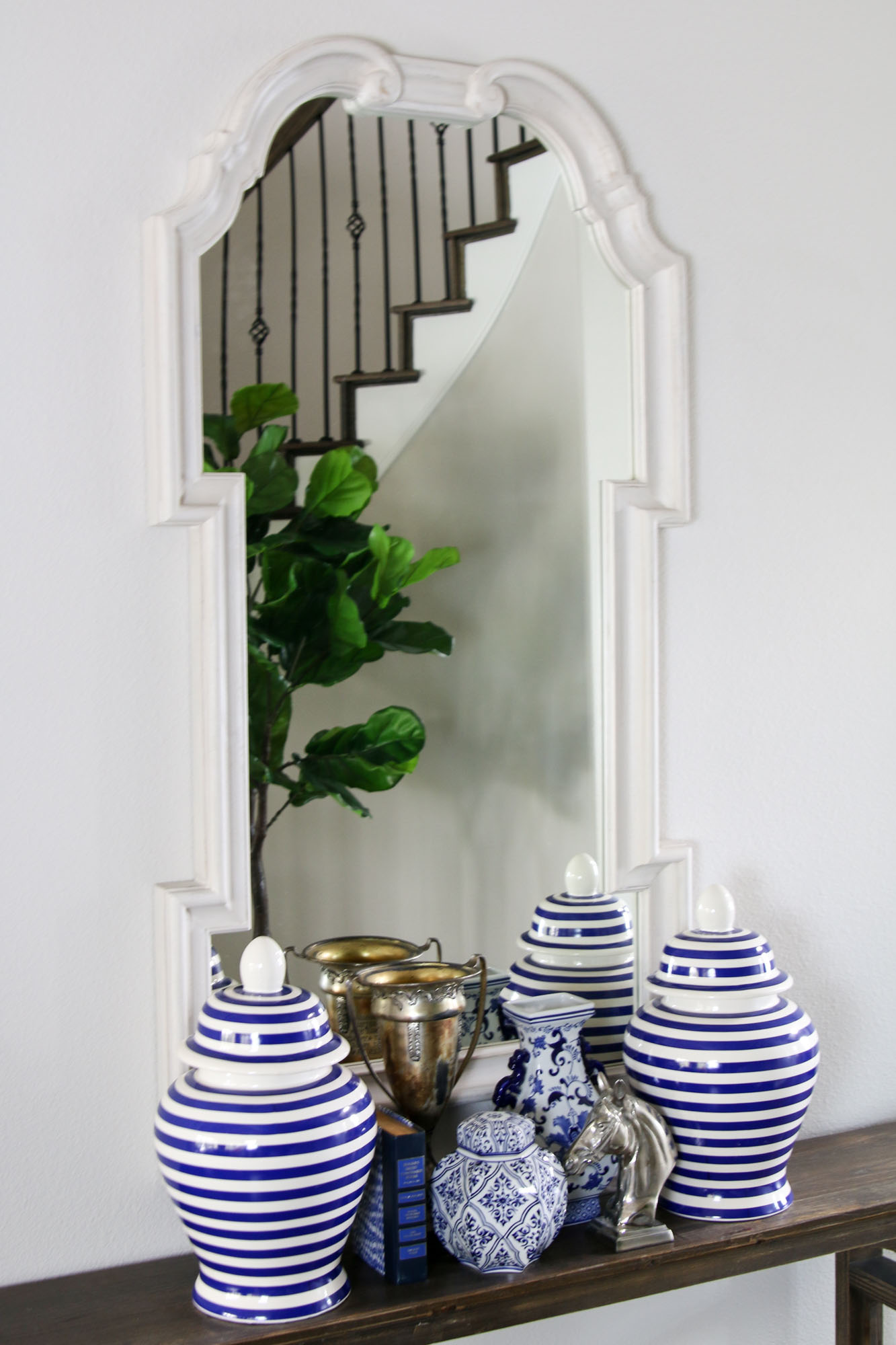 If you have been around Windgate Lane for awhile, you know that these two pieces are more than I usually spend.  But with this new house and with 10yrs of design experience under my belt now, I knew where I would feel comfortable spending a bit more and that was on things that would be classic place holders.  The table and mirror will be there for a long time and my little accessory loving heart can decorate around them in all sorts of ways!
Each space is slowly coming together!
xoxo
B
**All photos are property of Windgate Lane.  Prohibited use without written permission.