**Affiliates present**
This framed, hand stenciled quote was such an easy project! And I am so excited that I got to make it for the sweetest family!
This last fall, I was invited by Charlotte, at Ciburbanity, to be involved in the furnishing of a Habitat for Humanity home.  It has been such a neat experience and I loved working with a special group of ladies and fellow bloggers to make this happen! The primary room I worked on was the master bedroom.  Because all of this was taking place in Connecticut though, I primarily concentrated on what we needed to buy rather than what had to be made.  Charlotte at Ciburbanity and Jilliam at I Am Home Maker were my amazing partners and bless them for the amazing build projects I will link to below!
After traveling out and meeting the family last fall with Charlotte, I was struck by the sweet Momma's quotes all over her home.  All about love and family- and it was crystal clear that those are the most important things in the world to her.  So it occurred to me that I could create a larger version of one of her favorites for her Master!
"The best thing to hold on to in life is each other."
I lucked into finding a perfect frame at the thrift store!  The family loves a county taste in their decor and the existing wood frame would tie right into that.
It originally had some birds on it so I primed it with Zinsser first to get a clean slate.  After that, I found some 1 inch letter stickers and placed them on, traced around them, peeled them off and took a black sharpie to color them in!
A fresh beginning for such a precious Momma and her family!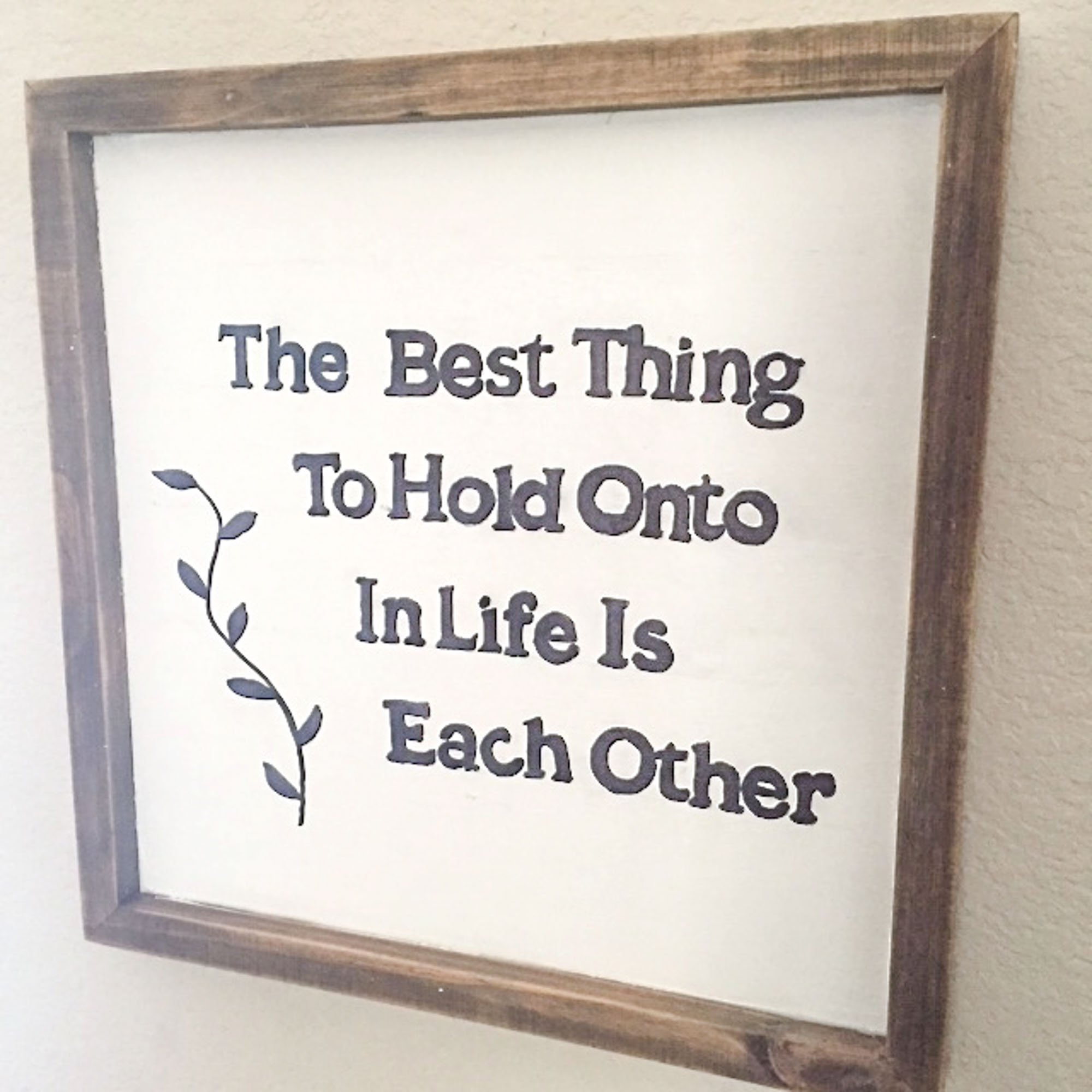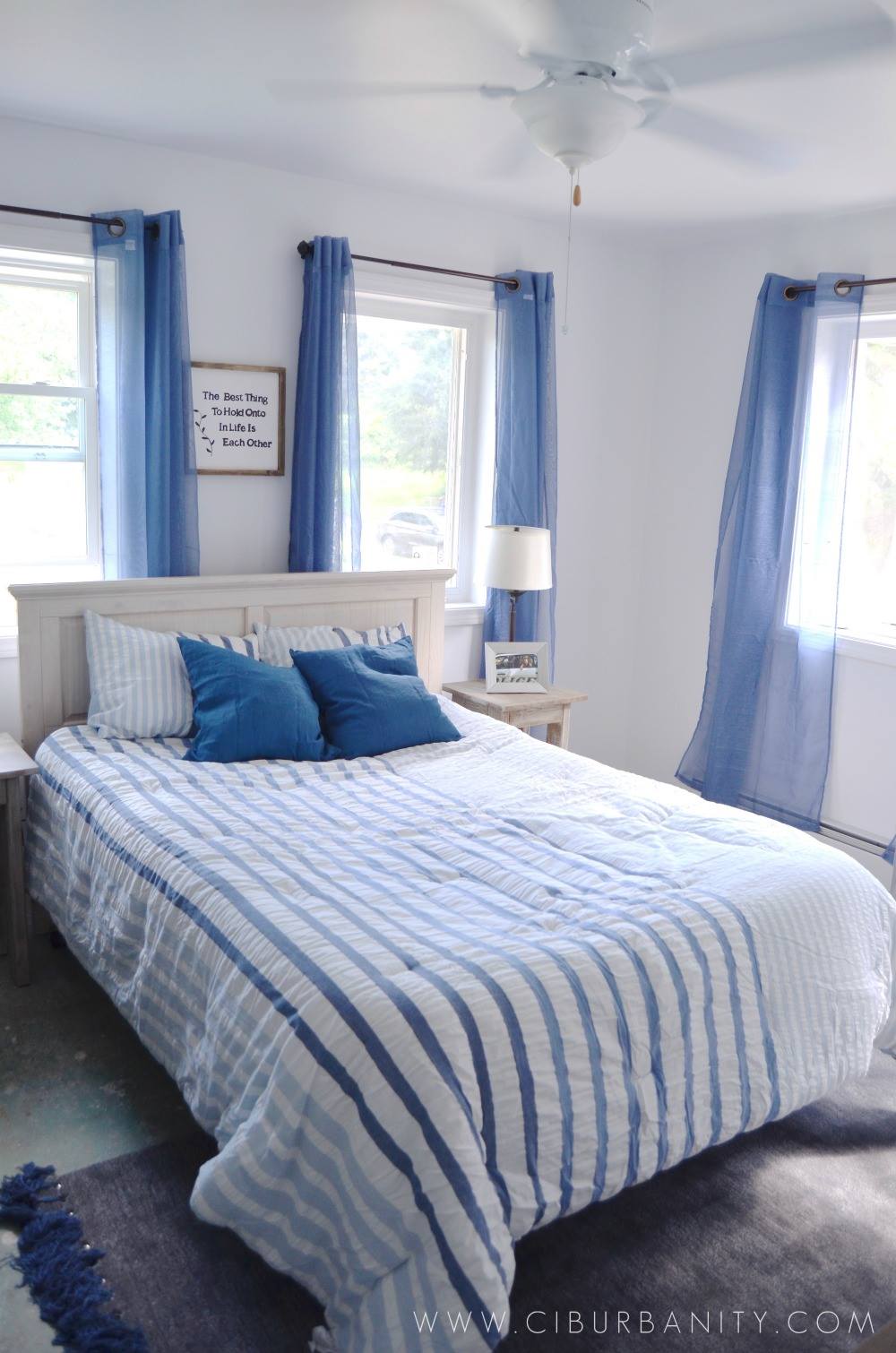 (photo cred Ciburbanity.com)
I'm so excited to keep sharing more and more of this project with y'all! There was so much heart in this that the outcomes in each room were just overflowing with love.  We have also been so lucky to have HomeTalk and Wayfair sponsoring this with amazing donations, not to mention RugsUSA with some of my favorite rugs!  If you would like to follow along with all of the projects, hop over to Instagram with the hashtag: #bloggershearthabitat.  And I will be back soon to share more inside looks and sources.
And to see all of the other amazing rooms, you can jump to all of these amazing women!
LIVING ROOM:
| Jaime from That's My Letter  | Laura from Finding Home Farms
DINING ROOM/ DECK:
| Kris from Driven By Decor | Annie from Most Lovely Things |
MASTER BEDROOM:
| Jillian from I Am a Homemaker | Charlotte from Ciburbanity | Bee from Windgate Lane |
KIDS ROOM:
| Kristin from A Thrifter in Disguise |
GUEST ROOM:
| Evey from Evey's Creations | Lynn from On Fern Avenue |
FOYER/ MUDROOM/ BATHROOMS:
| Sarah and Nick from Nestrs |
TEEN ROOM:
| Michelle from Weekend Craft | Stephanie from Sandpaper and Glue |
xoxo
B