**Affiliates may be present but all opinions are my own**
We have been without a dining room table for about a year now.  Hold your gasps.  I sold our old one because it was just not me and we never sat at it! It has been heaven to have the space to work on furniture during the summer as well, when I can't possibly get paint to dry in the garage.
But the holiday season is upon us and I got an itch to have a nice dining area again! I knew I didn't want to buy anything expensive and I also wanted to be able to disassemble easily should I need the space again.  So I decided to build one, but I wanted to try and give it some more interest than just a few boards.  This turned into me trying to recreate a live edge table!
I was aware that this might not turn out how I had hoped but decided I could sand it out if I hated it or make it into fire wood.  Here was my inspiration…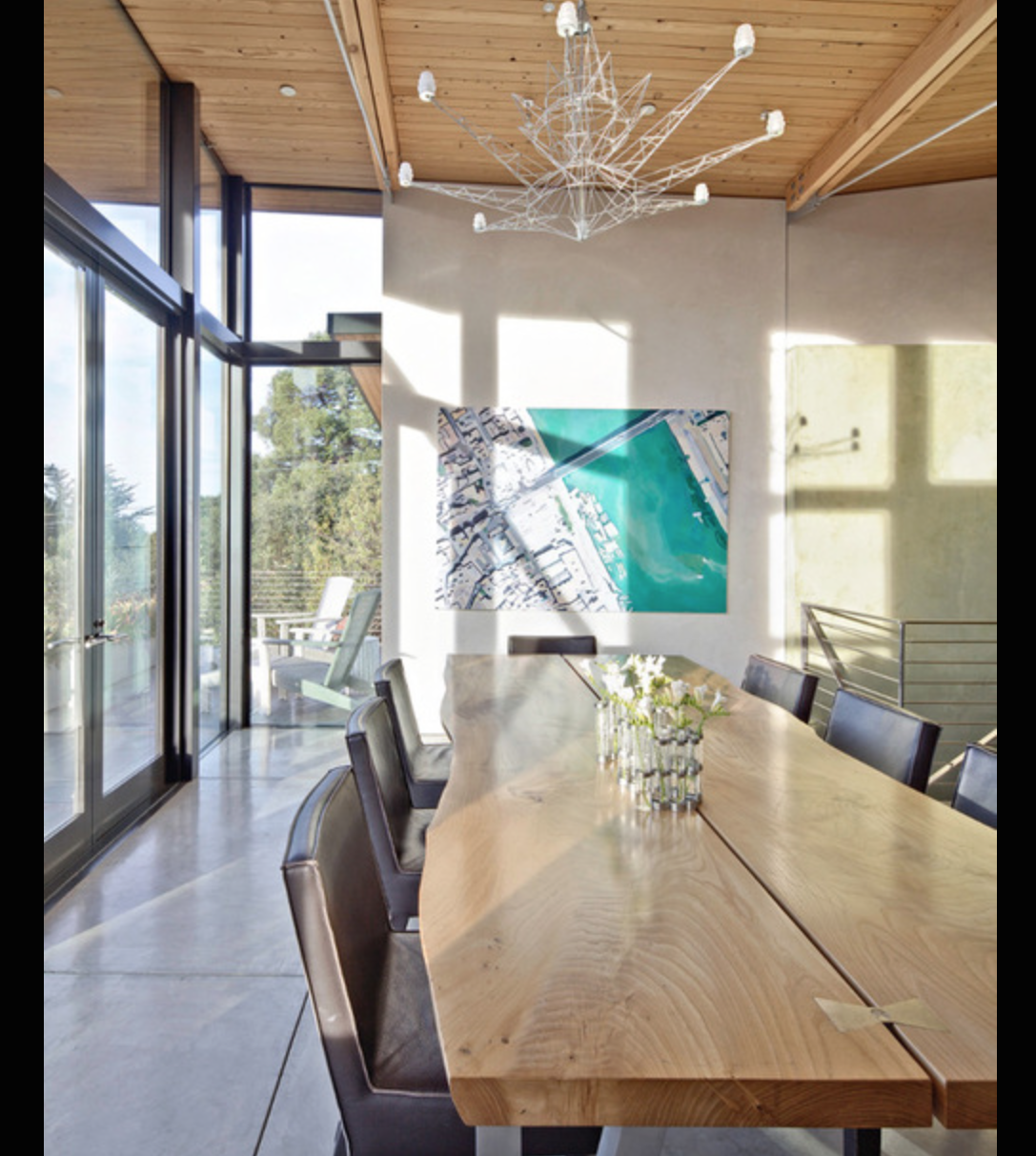 I wasn't going to be able to create the gorgeous thick wood like this one due to the weight of it and the fact that I would need to be able to raise my children after I built it.   But I loved the pretty lines!
Materials Used to make a 72 inch Dining Table:
2 8×12 boards (outer boards)
1 8×10 board (center board)
2 small backer boards (I just used scrap wood)
wood screws
wood pre-stain solution (I used Minwax Pre- Stain)
stain (I used
poly (I used Triple Thick Varathane)
I have finally learned my lesson- make my list and have everything right on hand before I start! And yes, there are affiliate links included but that is just so you can easily see what I am using- I wasn't provided with any product for this project.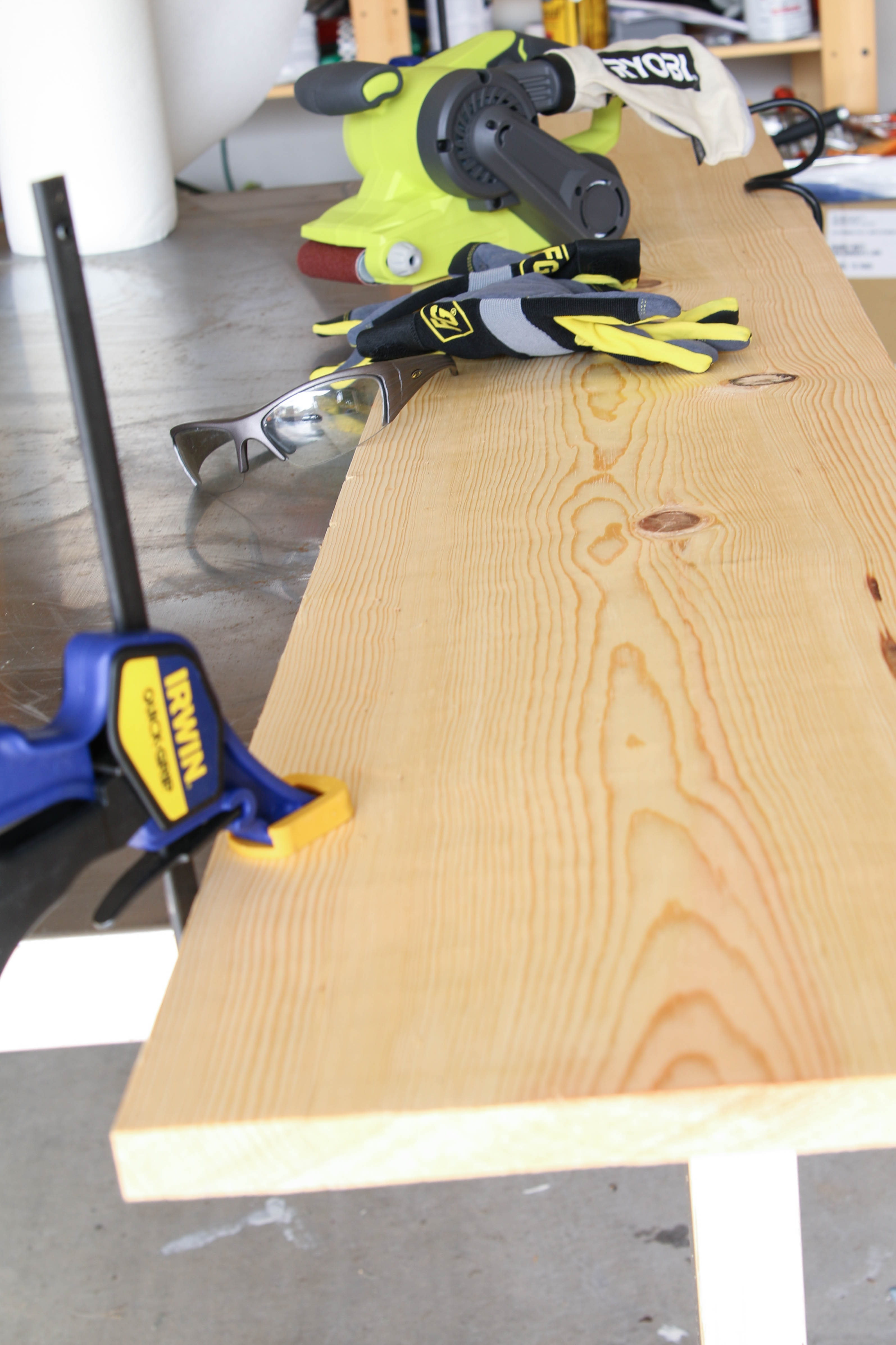 I clamped down my first board (the belt sander will send your board flying if not clamped) and then with my eye protection and gloves on (safety first), I started sanding away! I was cautious at first but quickly realized that I wanted there to be bigger notches so I spaced them out but just started making notches and then smoothing them out to blend with the wood.  I also sanded down all the edges on the one side to be rounded.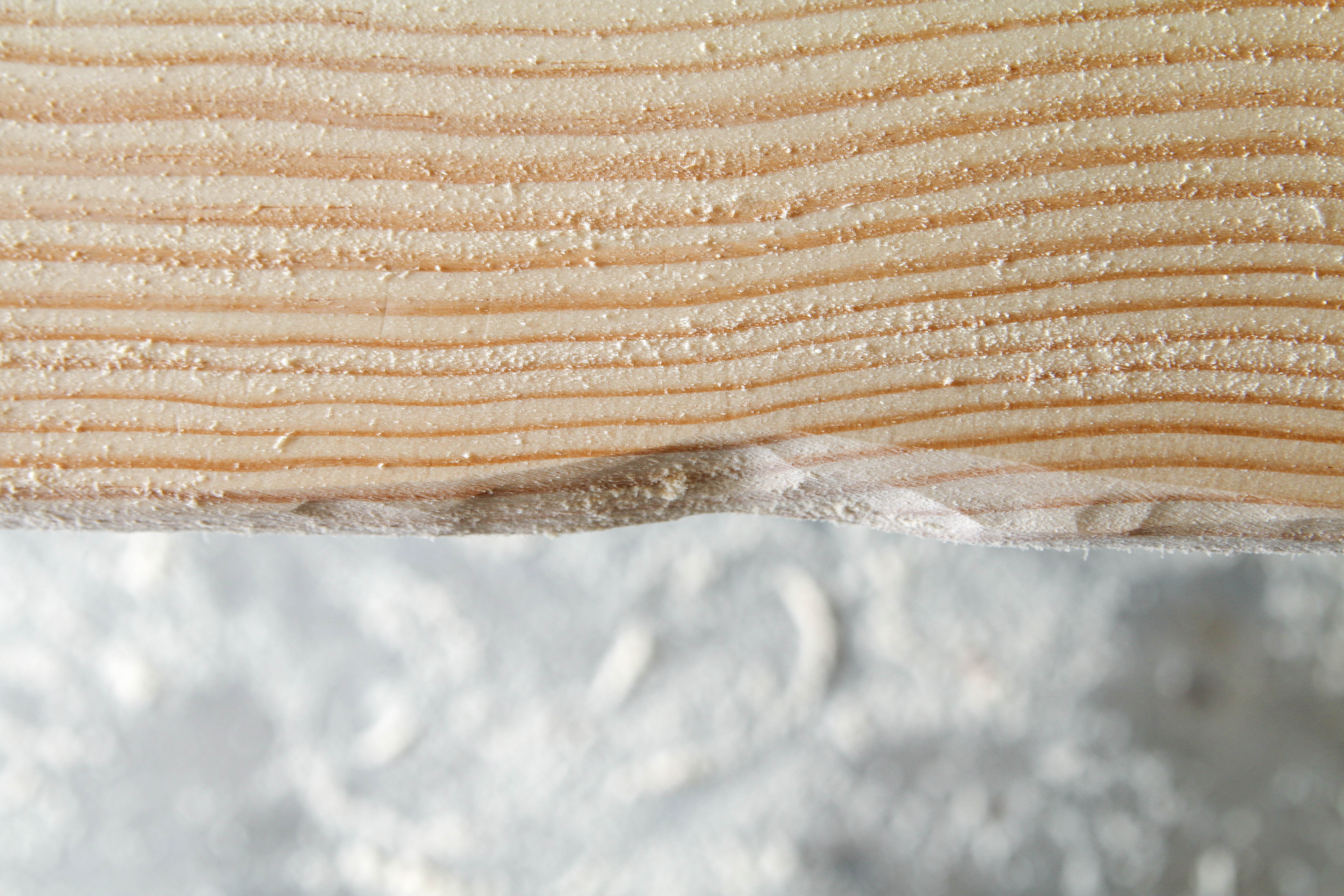 I put wood glue between the boards, and also screwed a backer board with wood glue to the back on two places.  Once that was dry, I sanded the top all over to make sure it was an even surface.
At this point, I used the pre-stain.  It just ensures that the stain goes on evenly.  I then brushed on the stain! I used a mixture of Ash and Golden Oak.  Once that was dry, it was time for the poly.  I am super paranoid about letting poly dry so I always follow the instructions to a tee and sometimes even give it a bit longer to make sure it's hardened between coats.
Enough chit chat, right? Once dry, I attached two trestle bases from Ikea for a whopping $15 each! But ya want to know what $15 gets you? No way to attach them to a base! what?! Annoying.  So I decided to add another cross bar underneath to let the base have a ridge holding it in place.  The pictures may explain it better:)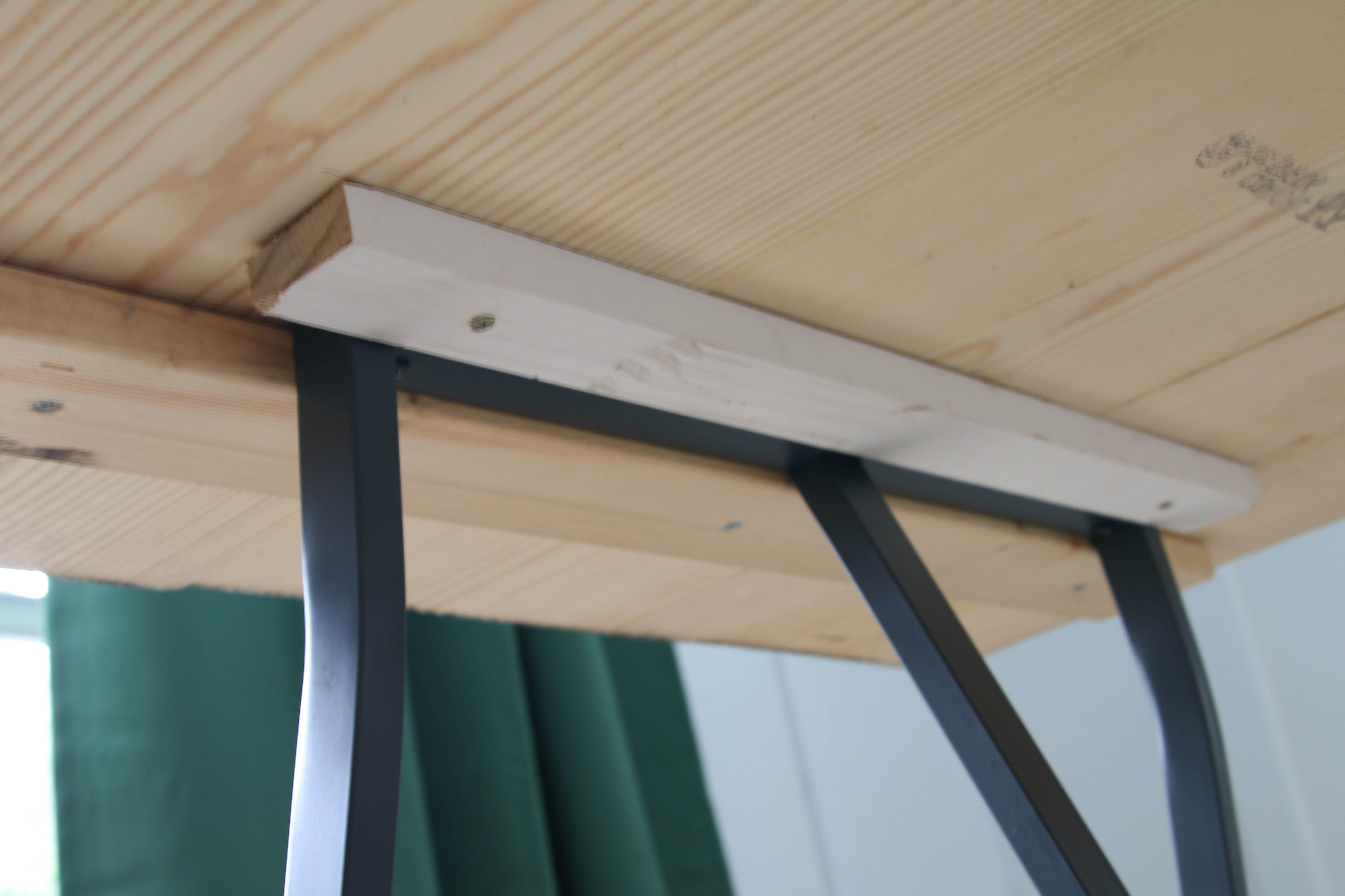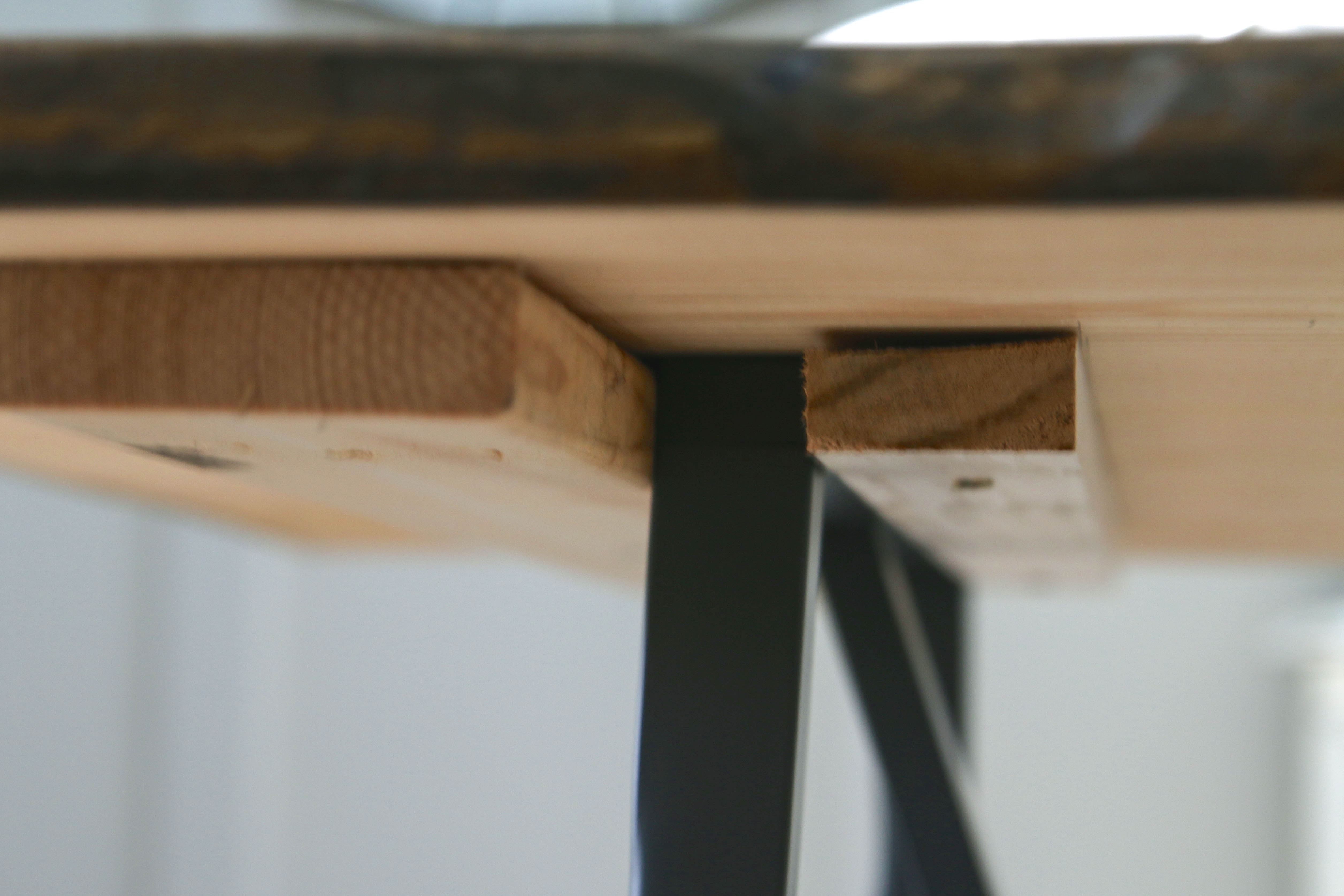 The stain really helped the sanded details to stand out and I couldn't be happier with my 6 seat table for a grand total of about $80!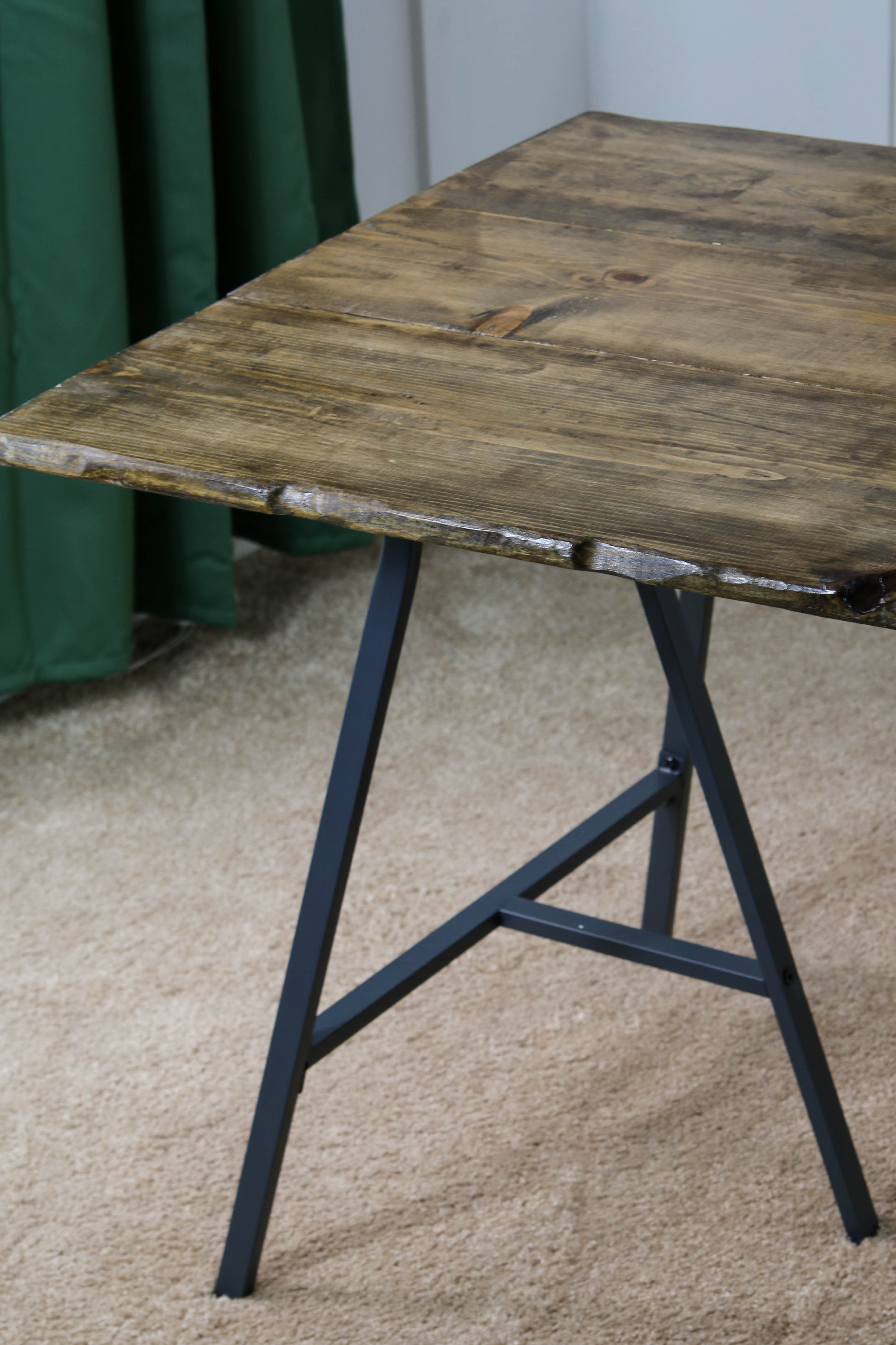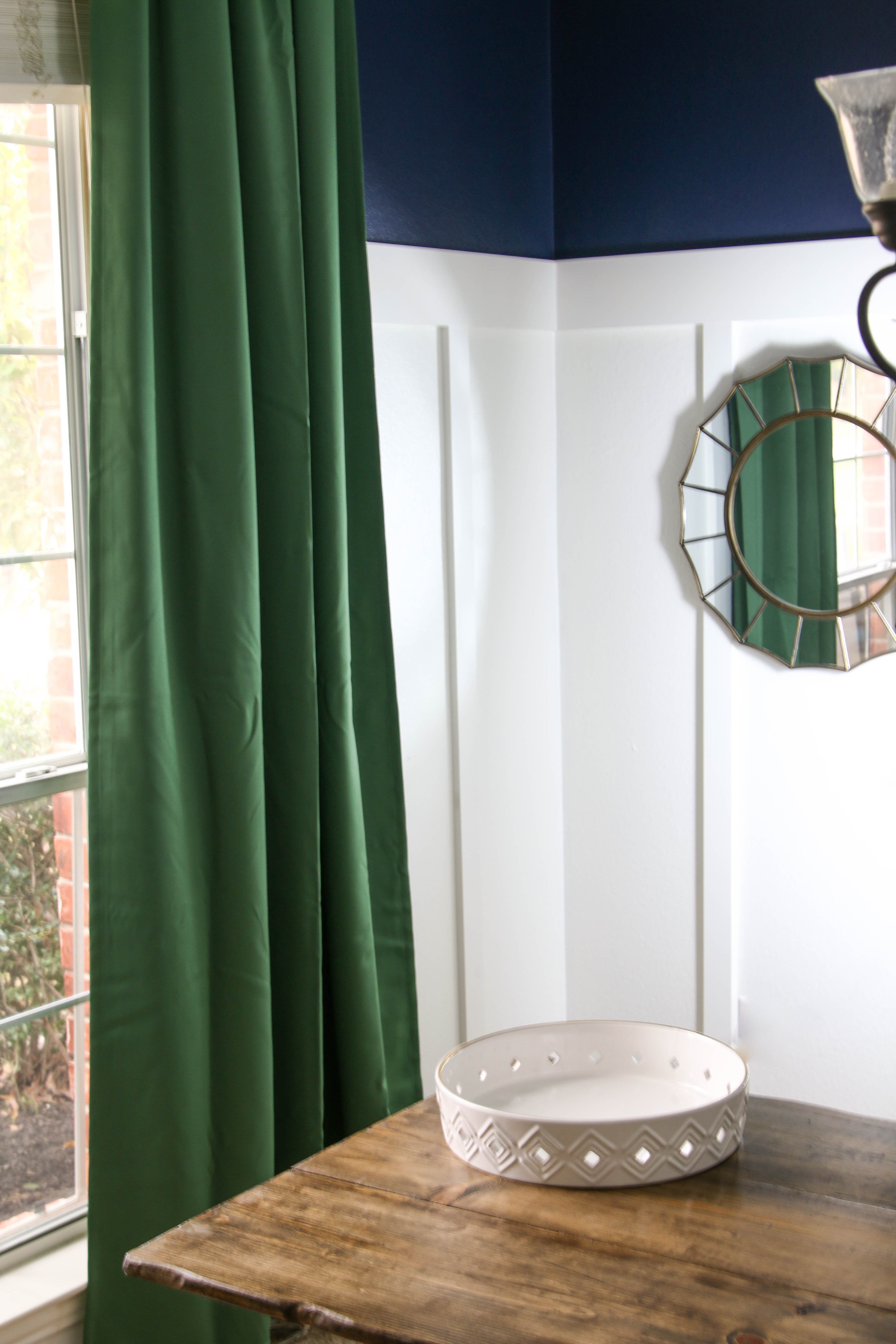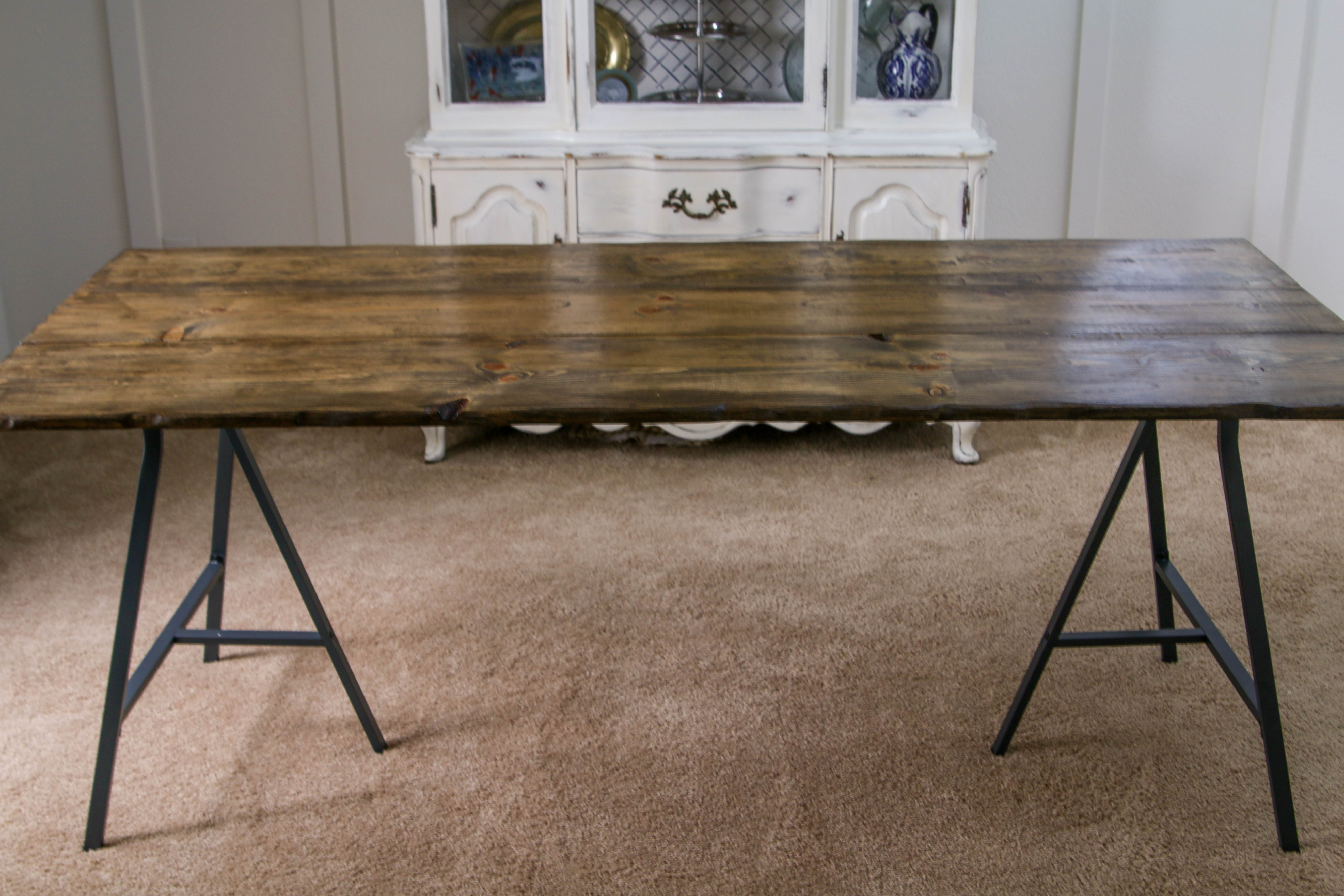 If I didn't need it to be light and mobile, I would have liked it to be a thicker wood, but this is the perfect solution for my needs! And I'll be back later this week to show you it all set up for Thanksgiving!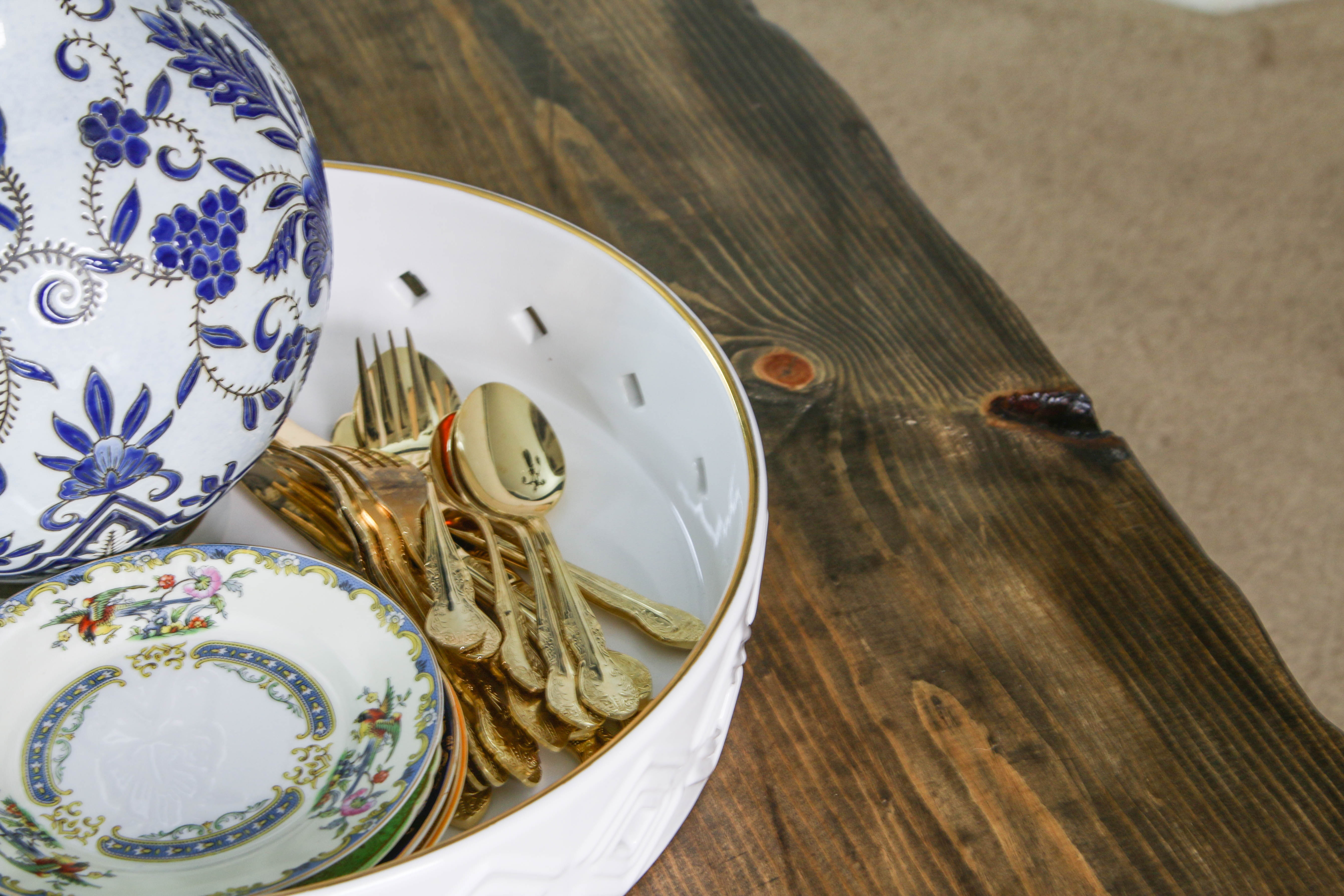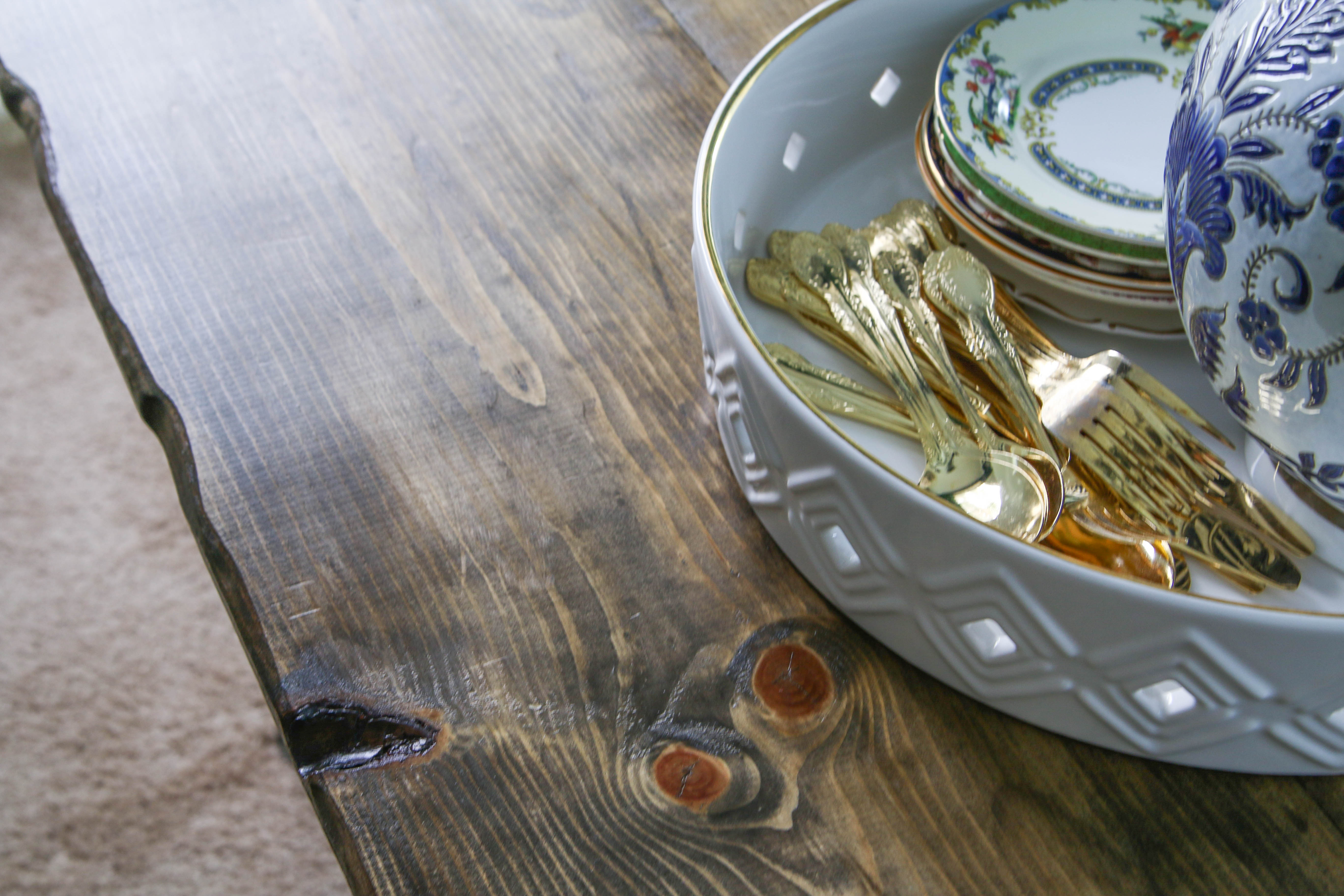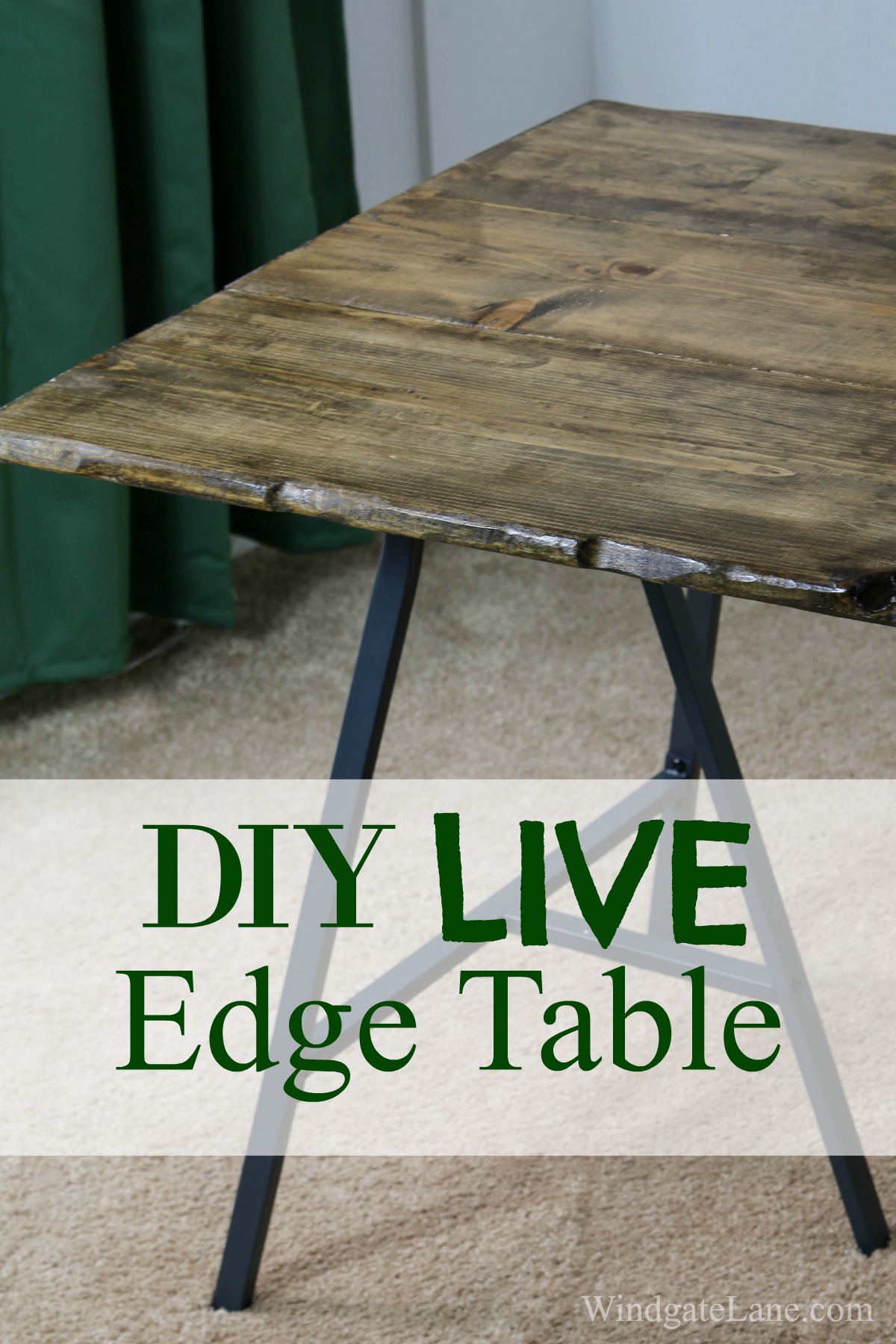 Update! I finally found the perfect chairs and the Dining Room has been completed! Head here for sources and details!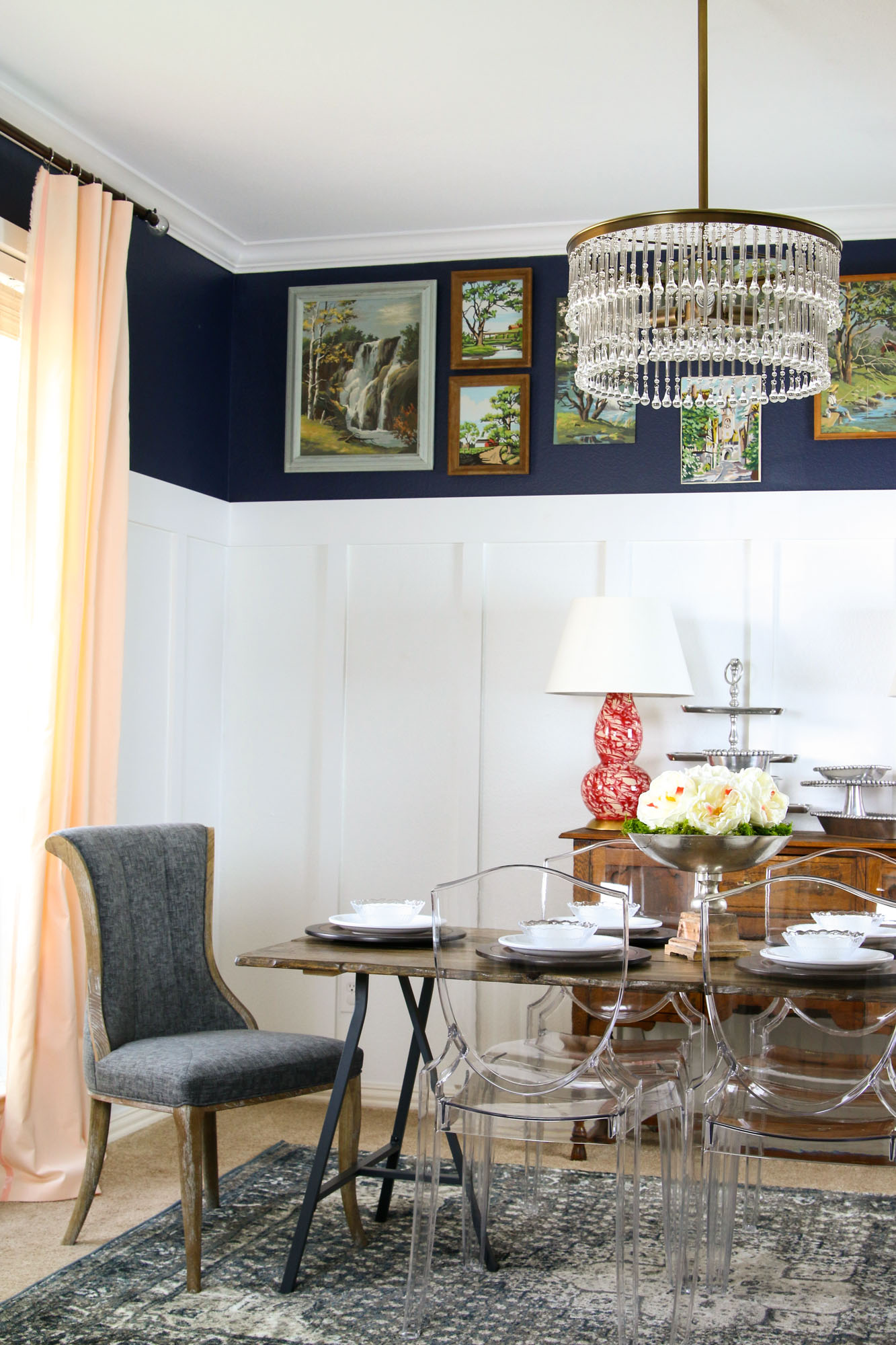 Have a wonderful day~
xoxo
B