If you are popping over from Jen at The Chronicles of Home, welcome!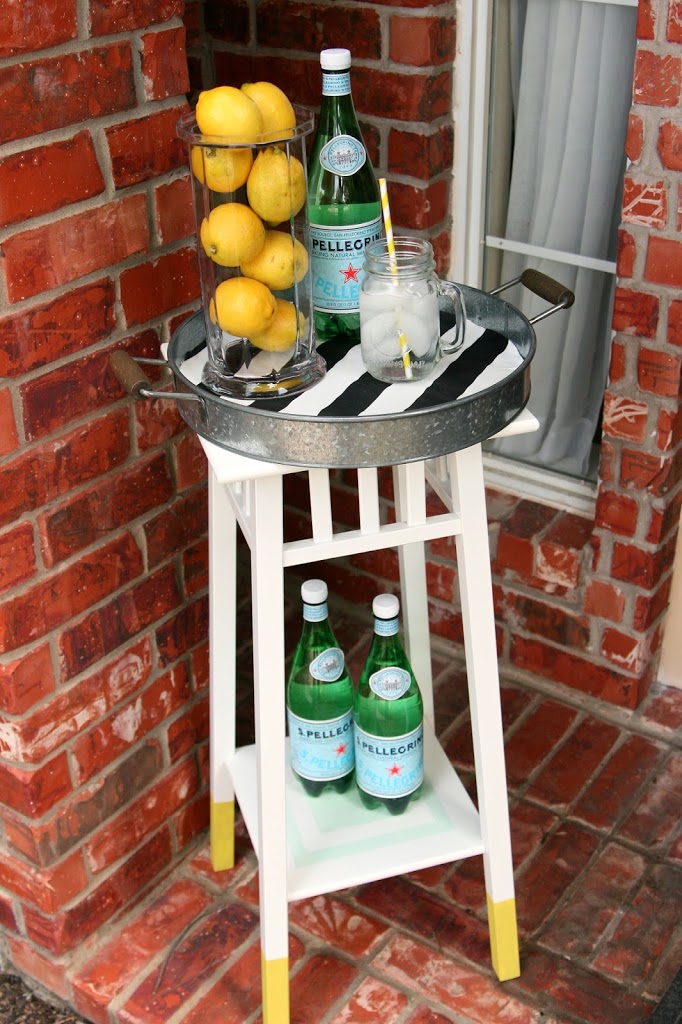 I was the lucky recipient of her thrifting find in this fun
blog swap!
A couple of my fabulous blogging friends came up with a fun idea to pass our thriftiness around and challenge each other!
So we were all given a medium (wood, metal, or glass) and we had to find something thrifted and under $15 to send to the next person in our order.
Jen sent me something that I loved so much I hated to do too much to it! This awesome metal tray arrived and my brain went in about 20 different directions on what to do with it! At first I was going to hang it on the wall and make magnets to clip up notes on it- I thought about making it a clock too.
My inspiration finally struck though because of a summer party and the tray's original purpose:) I wanted to make it versatile though- so I found some different fabrics I had and settled on the black and white I was given by the Online Fabric Store last year at the Haven conference (you can read about that here).
I love it and and want to incorporate more black and white in our home so it was perfect.
Tutorial:
I traced around the tray on the fabric and then cut out the circle. I then covered the front with Mod Podge and after it dried, I did the same on the back. I wanted it to hold its shape and then be able to spray it with a water proof sealant so that it would be fine if it got wet. What I love is that I can change it out whenever I want to go with whatever party theme we are having! And it made my little unused plant table into a tray table/ bar cart.
I also taped off the legs and painted them a fun English Yellow by Annie Sloan and then taped off a square pattern for interest on the bottom shelf using a gorgeous mint green (Cosmopolitan) by Velvet Finishes.
Happy Summer!! Hop on over to Jess at Gourley Girl and Guy to see what fun surprises she got from me!
And here is the whole list of lovely ladies participating- so make sure you check them all out!
xoxo
B