**affiliates present**
This may be my favorite Ikea Hack that I have ever done- my Faux Card Catalog! I had watched, dreamed, hoped, and prayed to find an old library card catalog for about 8 gabillion years.
You see, I had a stint as a middle school librarian and fell in love with all things books.  We can revisit my librarian career at a later time as you are probably now picturing me with a bun, glasses, and hunch back.
Anyhoo… the only card catalogs I have found have been super duper expensive and y'all know my CFO is not having that.  So what is a girl to do? Duh! Make my own!  Now if you want to get all technical, it is not a working card catalog- but it has at least stopped my shakes for having my very own.
We have owned this Ikea Hemnes Shoe holder for about 5 years now and it was a bit beat down as we mainly used it for diapers and baby gear and such in our front hall.  I love it because it is so slim and doesn't take up too much space- but it definitely needed a make-over so it was the perfect piece to give this idea of mine a try.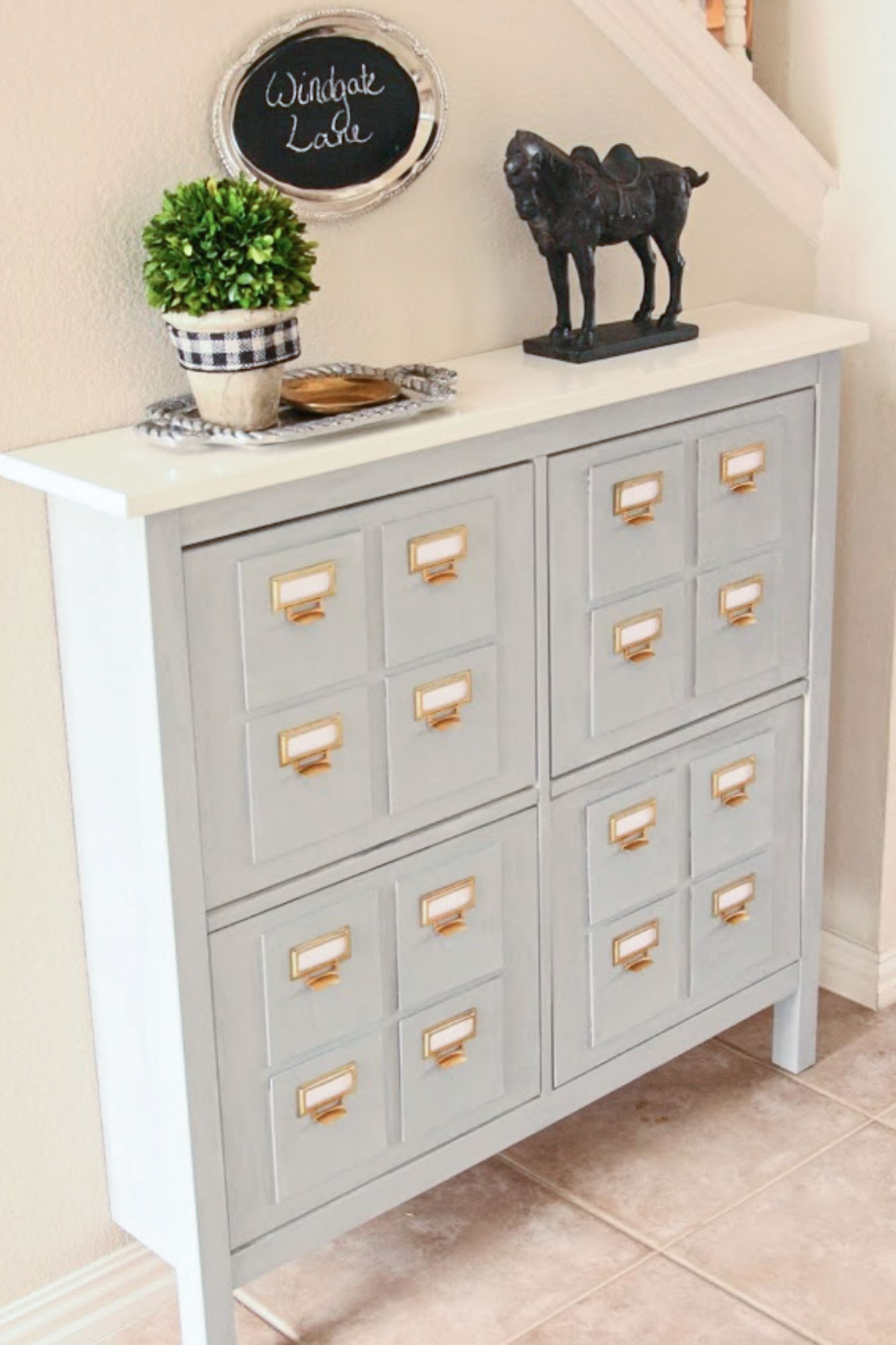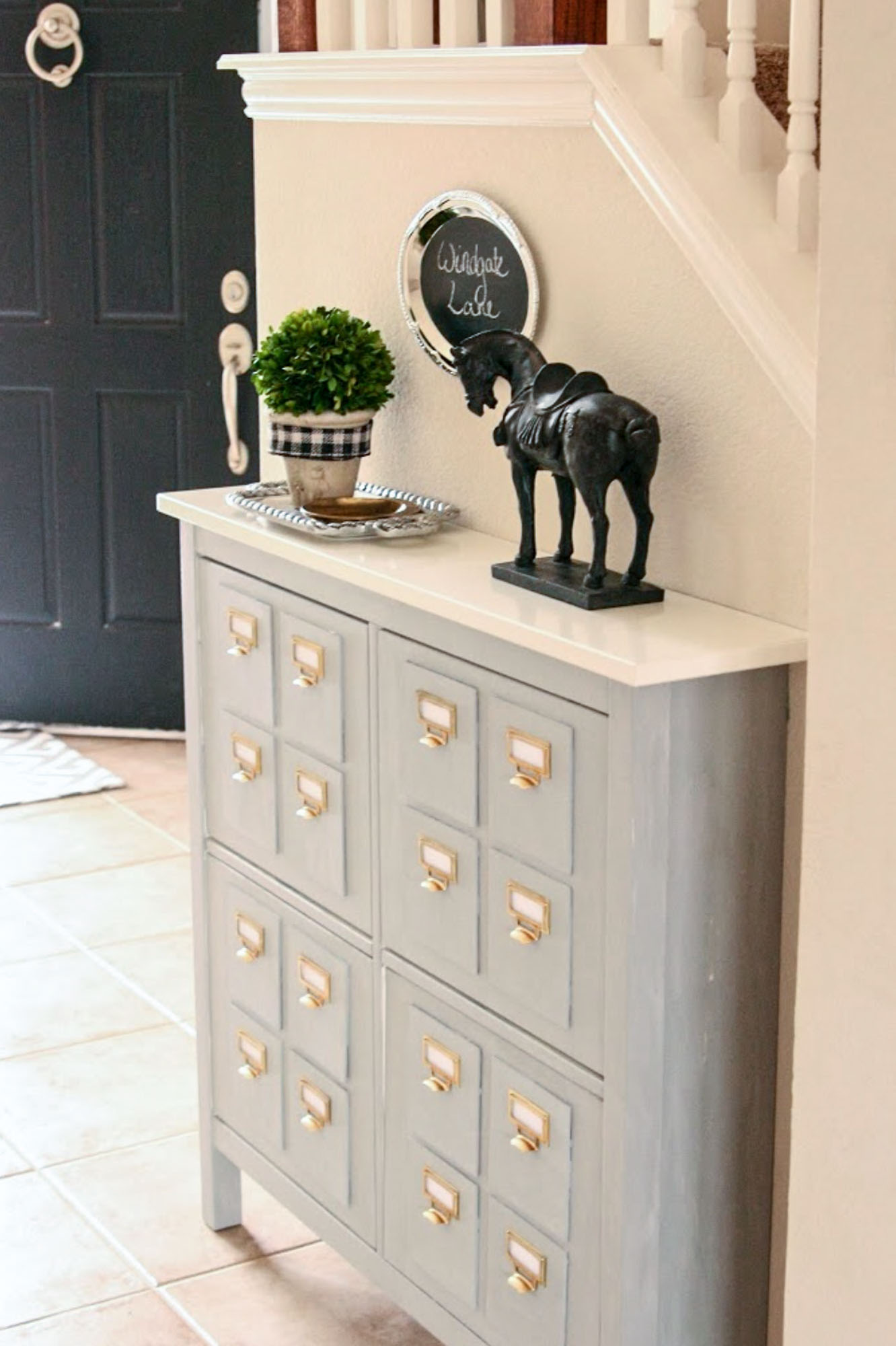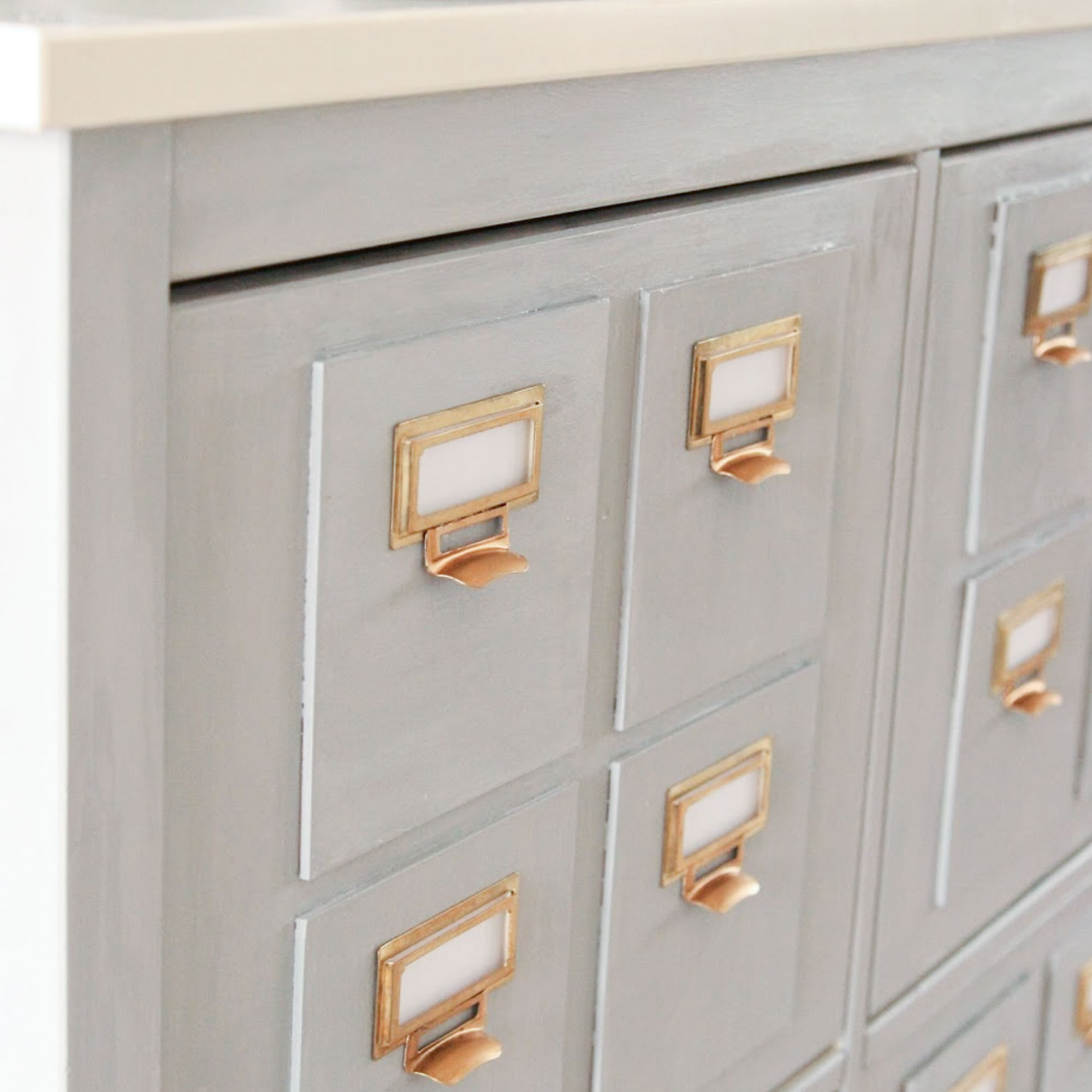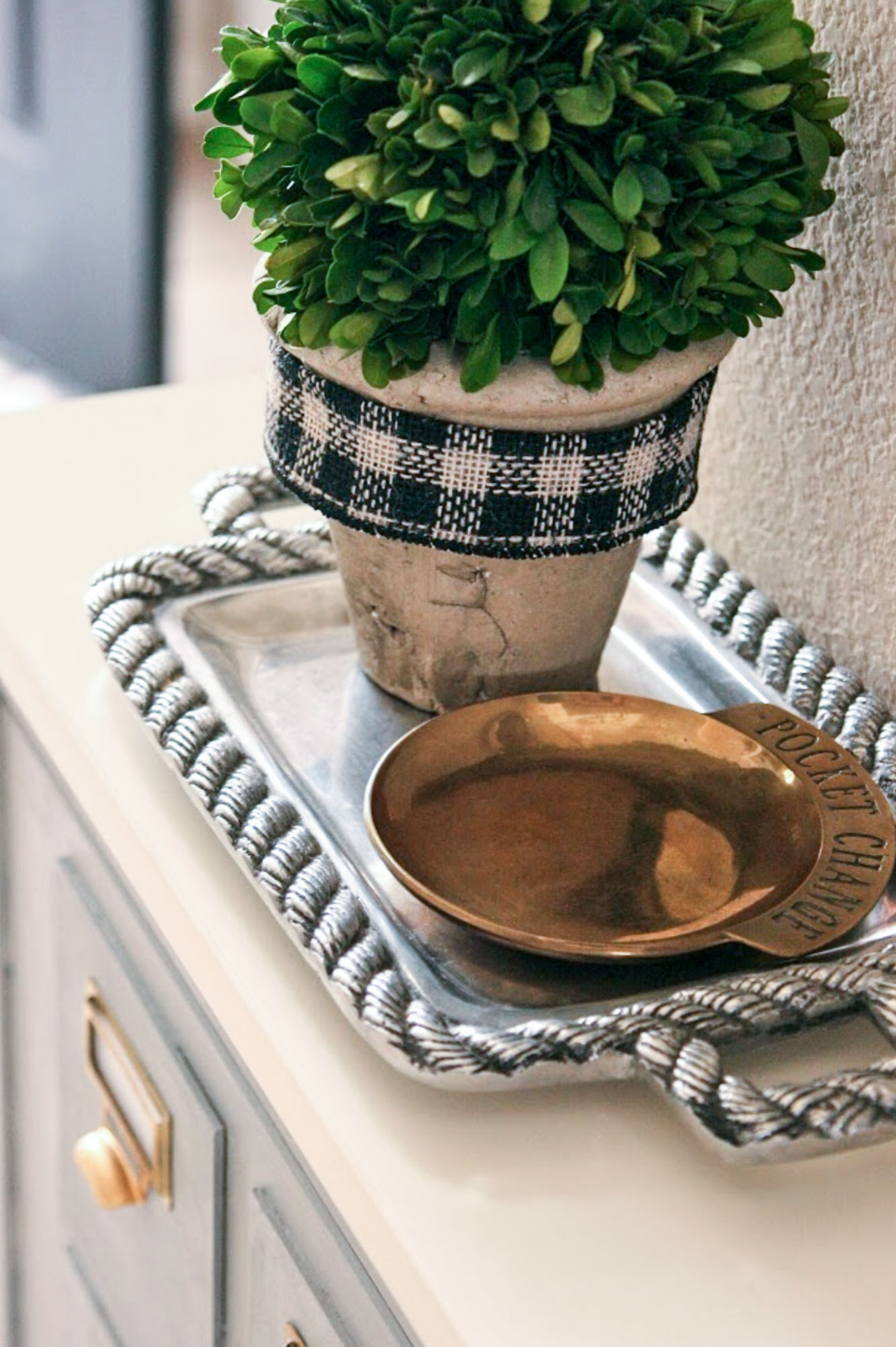 And because I love peppering in the old with new- I threw in this Target rug to have a fun contrast!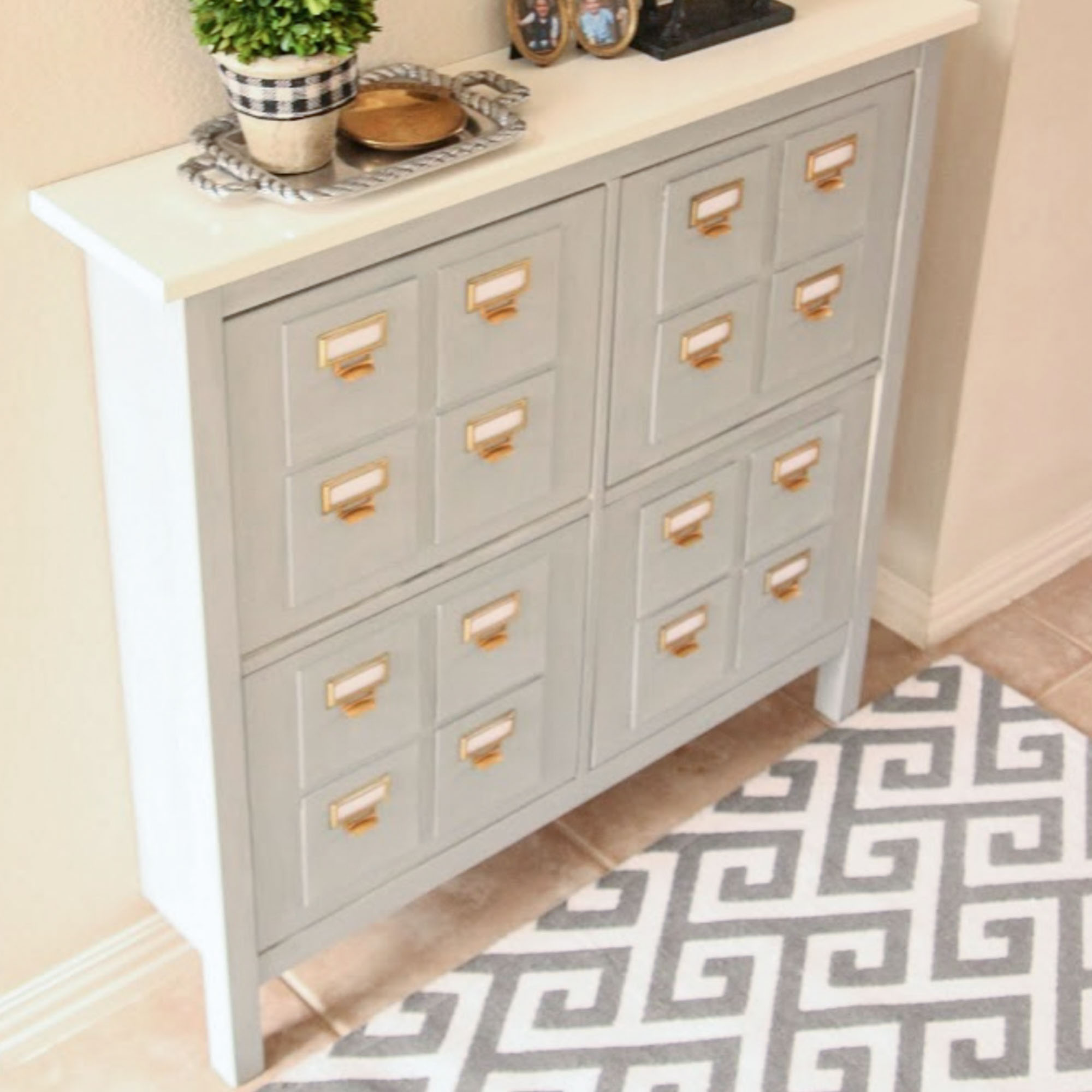 Tutorial:
The tutorial is fairly simple-
Remove drawers and gave them a light sanding.
Buy 4  12×12 thin wood scraps from Hobby Lobby ($12) and cut into 4 6×6's.
Use liquid nails to glue them to each drawer front.
Two quick coats of paint- I did a mixture of Annie Sloan Chalk Paints- primarily Paris Grey, with a bit of French Linen and Louis Blue.
A coat of Poly (My favorite Poly Used here on a Two Toned Side Table and here on a French Provincial Hutch).  I used it instead of wax for time reasons and because it gets a lot of traffic and I wanted to be able to wipe it down easily.
The hardware is where my cost became challenging.  I needed 16 pulls so I got creative after doing  some research.  I found some small ones similar to These from Amazon.  I did Gold Rub n Buff on them to make them look a bit more antiqued.
End Scene.
I am just gonna say it… I love it.
Hope you are all having an amazing day!
xoxo
B
Original photos taken:
Linking To: